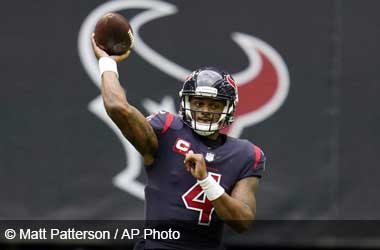 Summary
NFL recommends six game suspension for Deshaun Watson
The Cleveland QB was accused of multiple sexual assault allegations
NFL criticised for not doing enough to punish Watson and setting an example
The Deshaun Watson trial by media over the last few months has caused quite a stir as multiple massage therapists came forward to allege that the Cleveland Browns QB had misbehaved with them on multiple occasions.
The NFL was forced to launch an investigation into Watson's behaviour off-the field and there were many who believed that the NFL would impose a harsh punishment on Watson to set an example to other players about their conduct as an NFL player both on and off the field.
Watson has denied all of the sexual allegations made by over 20 plus massage therapists and made it clear that he was prepared to take legal action against the NFL if they punished him for something he claimed that he did not do.
On Aug 1, Sue L. Robinson, the disciplinary officer overseeing the Watson investigation sent across a 16 page report of her findings and recommendations. The overall result was that the NFL had decided that it was going to slap a 6 game suspension on Deshaun Watson this season. Watson has a right to appeal the decision along with the NFL Players Association and the appeal must be filed before Aug 04.
If the NFL suspension is accepted, then Watson is likely to miss the NFL games against the Panthers in Week 1, against the Jets in Week 2, against the Steelers in Week 3. The suspension in Week 4 will be against the Falcons, in Week 5 against the Chargers and the final week will be against the Patriots.
NFL Gets Flak For Not Imposing Harsher Penalties
The NFL has received strong criticism on social media and from a number of women's rights groups who claim that the NFL is letting Watson get away with sexual assault against women by only issuing a 6 game suspension.
However, the NFL has backed its ruling by claiming that it has followed protocol by examining the ruling that it has handed out to 32 players who faced similar charges. The NFL issued a 6 game suspension to 21 out of those 32 players.