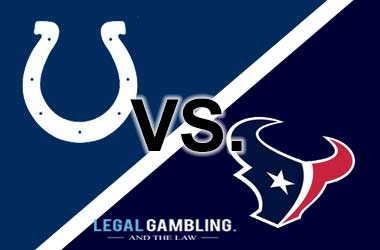 Two AFC South rivals firmly in the playoff hunt face off in a very important matchup. The Colts lead the all time series 25-8, but the Texans won the previous matchup this season in Indianapolis, 37-34.
The Colts were blanked 6-0 last week by the Jaguars. In week 11, they beat the Titans 38-10, and beat the Dolphins 27-24 in week 12.
The Texans have now won 9 straight, most recently a 29-13 win over the Browns. In week 11, they beat the Redskins 23-21 and beat the Titans 34-17 in week 12.
Intertops has the Texans as 4.5 point favourites with an O/U of 49.
Indianapolis Colts
After averaging 34.6 PPG over their 5 game win streak, the Colts were shut out by the Jags and really struggled to move the ball for the first time this season. Andrew Luck is still playing great football this year, having thrown for 3360 yards, 32 TDs and 12 INTs while averaging 6.9 YPA and completing 67.9% of his passes. T.Y. Hilton has been their most effective receiver, tallying 53 catches for 787 yards and 6 TDs. Eric Ebron has been a valuable target in the redzone, totaling 54 catches for 589 yards with 11 TDs. Marlon Mack leads the team in rushing with 117 carries for 583 yards and 4 TDs. Nyheim Hines and Jordan Wilkins have combined for 130 carries for 605 yards and 2 TDs on the ground as well.
The Colts are middle of the pack in terms of points allowed, giving up 23.2 PPG. They are dead average in passing defense, allowing 243.8 yards per game and 18 TDs through the air, and are below average in terms of sacks with 30. Their run D is just outside the top 10, allowing 104.1 yards per game and 8 TDs on the ground. Indianapolis has forced 21 turnovers this year, but own just a +2 turnover differential.
Houston Texans
The Texans are rolling and are officially the hottest team in football right now. Deshaun Watson is making plays all over, throwing for 3031 yards, 21 TDs and 9 INTs while completing 66.5% and averaging 8.3 YPA. DeAndre Hopkins leads the team in receiving and is firmly entrenched atop the league in receiving with 80 catches for 1115 yards and 8 TDs. Tight end Jordan Thomas is establishing himself as a redzone threat as well, tallying 14 catches for 176 yards and 4 TDs. Lamar Miller leads the team with 876 yards and 3 TDs on 176 carries in the running game. Alfred Blue has been a major handcuff as well with 128 carries for 446 yards and a TD.
Don't look now but the Texans defense is 3rd in the league in scoring, allowing just 19.6 PPG. Their passing defense is below average, allowing 250.2 yards per game and 20 TDs through the air, while their pass rush is top 10 with 34 sacks. Their run defense is top 5, giving up just 91.3 yards per game and 6 TDs on the ground this season. The Houston D has forced 22 turnovers this season, and the team owns a +8 turnover differential.
Predictions
This game represents a lot for both teams. The Colts are trying to prove they are legitimate playoff contenders while the Texans are attempting to cement themselves as Super Bowl threats. The Colts offense is coming off a very down week, but have faith that Frank Reich and Andrew Luck will bounce back in a big way against a defense that has done well to stifle explosive plays, but can be susceptible to dink and dunk offenses. The Colts O line has done a nice job thus far, and should do enough against the Texans front to give Luck enough time to get the ball out efficiently.
The Texans offense is not spectacular, but matches up well against a Colts secondary that lacks playmakers. There is not a single defender on the Colts who can hold a candle to DeAndre Hopkins. However, the Colts are creative up front in their games and stunts that could give Deshaun Watson some trouble behind a subpar offensive line. Another question is whether the Texans can play with a lead with their average running game. The Colts can really establish themselves as players in the AFC with a strong performance this week, and expect them to relish the opportunity with a competitive showing Sunday.
Final Pick: Colts (+4.5)