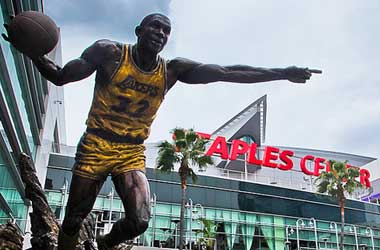 Basketball fans from around the world are excited as the NBA All Star Weekend approaches and they get to see their favourite NBA players take to the court at the Staples Center in Los Angeles, California. The event will kick-off on Friday with the NBA All-Star Celebrity game
which will be televised on ESPN at 7 pm ET. This will be followed by the NBA All-Star Rising Stars game which takes place on the same night and will be televised at 9 pm ET on TNT.
The NBA All Star weekend will continue into Saturday with the NBA All-Star Skills Challenge which will be broadcasted on TNT at 8pm ET. This will be followed by the NBA All-Star Three-Point Shootout which will also be telecasted on TNT. The final event for Saturday night will be the spectacular NBA All-Star Dunk Contest which also airs on TNT.
The much awaited 2018 NBA All-Star Game will take place on Sunday, Feb 18th as Team Lebron goes up against Team Stephen. The Staples Center is expected to be at full capacity over the weekend as NBA fans are expected to fly in from all over the country and send Los Angeles into a tizzy as a massive crowd heads over to the arena.
Discover Los Angeles
The Staples Center Prepares For The Big Weekend
L.A is preparing to welcome thousands of tourists into the city who will bring in a lot of business for the city. The Staples Center has hosted a number of famous events over the years including the Emmy awards, Grammy awards and 7 NBA finals. There will be a huge emphasis on security considering the recent mass shootings in the United States.
In a statement, Lee Zeidman, president of Staples Center said
We've got a template to actually put these things on. We'll sit down with NBA security personnel and we'll map out where the perimeter should be, how it should be ticketed, how the guests should enter, how they should leave and we obviously monitor what's going on worldwide from a security and safety standpoint
While the NBA All Star weekend is filled with exciting events, the event that fans are most looking forward to is the 2018 NBA All-Star Game on Sunday night. The two teams look pretty solid on paper and it is hard to pick an outright winner. A lot will depend on how each player performs on the night but Team LeBron might have a slide edge over Team Stephen.