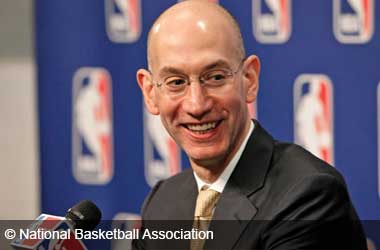 Adam Silver, the commissioner of the National Basketball Association (NBA) acknowledged that the league would lose revenue to the tune of hundreds of millions if the ongoing conflict with the Chinese government is left unresolved.
The NBA is also yet to confirm that preseason games will be held in China as they had been in previous seasons.
However, Silver stated that he is confident that the league will be able to repair its relationship with China and business as usual can resume even without a strict timeline in place.

A number of prominent Chinese companies have pulled out from sponsorship deals with the NBA, leading to the lowering of salary-cap projections next year. Silver estimated the losses at less than $400 million.
TIME
The key dispute between the league and China is what China views to be the NBA's tepid response to a tweet by Houston Rockets general manager Daryl Morey supporting the Hong Kong protesters last October.
Chinese broadcast television networks pulled NBA games from their channels, preventing millions of Chinese fans from watching. Internet streams of NBA games have also slowed down. The conscious decrease of NBA exposure in China was further exacerbated by the coronavirus outbreak, which has curtailed the operations of many businesses in the region.
Future of NBA in China Steady
Silver admitted that the damage to the league by China's actions has been substantial, but stated that it was recoverable. According to Silver, the league is committed to their system and values, and is willing to face the consequences that occur because of them.
Silver was unable to commit whether Team USA would be able to follow through on their initial commitment to go to Shanghai before travelling to Tokyo, playing at least one exhibition game. Last season, the NBA had already announced their preseason games in China by January, including marquee teams the Brooklyn Nets and the Los Angeles Lakers.
The NBA is unable to provide a timeline because it is unclear who, ultimately, would be able to make the decision to lift the sanctions against the NBA. Silver noted that the league remains popular in China, and expects that Chinese businesses would be compelled to provide NBA content soon and reopen negotiations with the league. However, Silver pointed out that the NBA cannot specify any timeline as to when business will resume.