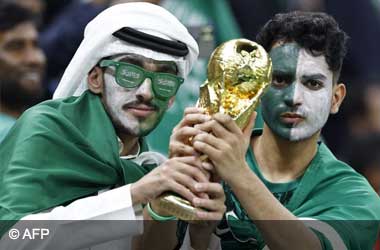 Summary:
Australia has backed out of wanting to host the 2034 FIFA World Cup
Saudi Arabia are likely to be awarded the bidding rights for the 2034 FIFA World Cup
Human rights activists not happy to see Saudi Arabia continue with its sportswashing trend
Australia has decided to back out of the bidding process to host the 2034 FIFA World Cup.
The two main countries contesting to host the 2034 FIFA World Cup were Australia and Saudi Arabia and now with Australia out of the race, it appears almost certain that Saudi Arabia will win the rights to host the 2034 FIFA World Cup.
Australia Drops Out Of Bidding Process
Australia did a great job in hosting the 2023 Women's FIFA World Cup along with New Zealand and it sparked a massive interest in football across the country. Aussie football fans will be disappointed to know that Football Australia has pulled out of the bidding process but it does not come as a major surprise as it is difficult for any country to compete with the wealth of Saudi Arabia.
Qatar hosted the 2022 FIFA World Cup and it now looks that Saudi Arabia will host the 2034 FIFA World Cup. FIFA has time till next year to make a decision and confirm who will host the World Cup in 2034 but it is a mere formality as there is no one else in the running to host the 2034 FIFA World Cup.
If and when Saudi Arabia gets confirmation to host the World Cup in 2034, the tournament will likely be held in Nov/Dec and not in June/July as usual in order for players to escape the Saudi summer months when it is extremely hot.
Human Rights Activists Not Happy With Saudi
Saudi Arabia has been accused in the past of engaging in sportswashing – a term used to describe the fact that Saudi is generating interest in sports in order to divert attention from the human rights abuse happening in the country.
FIFA president Gianni Infantino is alleged to have a strong relationship with Saudi Crown Prince and is said to lean towards giving Saudi Arabia the opportunity to host big tournaments which helps facilitate sportswashing.
In a statement, Human Rights Watch director of global initiatives Minky Worden said
The possibility that FIFA could award Saudi Arabia the 2034 World Cup despite its appalling human rights record and closed door to any monitoring exposes FIFA's commitments to human rights as a sham.