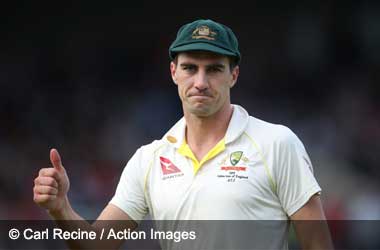 Summary:
Australia have retained the Ashes but Pat Cummins could still end up retiring
We take a look at potential candidates that can be the next Aussie captain
The 5th Ashes test will run from July 27 to 31 July at The Oval
When an England or Australia captain end up losing the coveted Ashes series, they invariably end up resigning from their post as captain or get relieved from the captaincy.
Australia ended up retaining the Ashes after drawing the 4th test against England but there is still pressure for Patrick Cummins to resign as Australian captain!
Cummins Struggling With Captaincy Role
Even if you are a strong fan of Pat Cummins, you have to acknowledge that the skipper has struggled during the Ashes series despite proving most doubters wrong in the first test. Since then Cummins has looked tired for the last couple of tests, confused at times which has reflected in his dropped catches, fielding and tactical decisions.
One reason for this is because Cummins is drained having played the World Test Championship against India, followed immediately by the Ashes series. He has taken on a huge workload with the bowling, the on-field captaincy and the off-field media responsibilities which is getting the better of him as a player.
Even though Cummins and the Australian team have retained the Ashes, there have been calls from ex-players like Mark Waugh for Cummins to be relieved of the captaincy. We take a look at the possible candidates that can replace Pat Cummins should he step down after the Ashes.
Potential Candidates To Replace Cummins As Test Captain
There are not a lot of candidates to replace Cummins because senior players like David Warner, Steve Smith, Usman Khawaja and Nathan Lyon are near the end of their test careers and Australia will want to look for a captain that will be able to spend a few years on the job.
The most likely replacements are wicket-keeper Alex Carey who is 31 and Marnus Labuschagne who is 29 years old. Carey has had some experience in the ODI arena as he was the joint vice-captain for a short period and might have an edge over Marnus Labuschagne.
The wild-card could be all-rounder Cameron Green who is just 24 years and is still trying to cement his place in the test side having played 24 tests prior to the start of the 5th Ashes test.