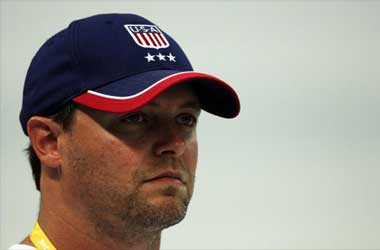 Former USA Swimming national team coach Sean Hutchison faces a formal investigation as allegations of sexual abuse of a former team member surfaced. Hutchison was served a search warrant by a Homeland Security Taskforce along with local Washington State police to go through his Seattle apartment earlier this week. The search proved to be fruitful as reports stated that several electronic devices were found that may contain evidence against Hutchison.
The search of Hutchison's home stems from former USA Swimming team member and world champion Ariana Kukors coming forward with allegations that Hutchison used his position as her longtime coach to commit sexual abuse against her.
According to Kukors, Hutchinson began to groom her for sexual abuse at age 13 when he became her coach at a local Seattle swim club called King Aquatics. However, Kukors goes on to say that Hutchison did not start to sexually abuse her until she was 16.
CBS Los Angeles
Kukors who is now 28 years old became the world champion in 2009 in the 200 meter medley and placed 5th in the same event at the 2012 Olympics.
In a statement, Kukors said
I've realized that stories like my own are too important to go unwritten. Not for the sake of you knowing my story, but for the little girls and boys whose lives and future hangs in the grasp of a horribly powerful and manipulative person. That they may not have to go through the same pain, trauma, horror, and abuse. That their parents, mentors, and guardians are better able to spot the signs of grooming and realize its tragic consequences before it's too late
This is not the first time that Hutchison has faced allegations about lewd behavior. In 2010 Hutchison resigned as a coach for the US Olympic team amid rumours that he was sexually involved with a swimmer on the team. At the time Hutchison denied the allegations stating that there was no truth behind the rumors and that his resignation was planned so that he could start his own pro swimming team.
While the investigation against Hutchison continues, there have been no formal charges filed against the former USA Swimming coach. Hutchison was unavailable for comment about the investigation launched against him.
The investigation into the allegations against Hutchison is yet another dark spot for the US Olympic Committee. The committee is still recovering from the sex abuse scandal of Larry Nassar, the former USA Gymnastics team doctor. Nassar was recently sentenced to serve 60 years in prison, as he pleaded guilty to multiple felony counts of child pornography and several counts of criminal sexual contact and sexual assault.