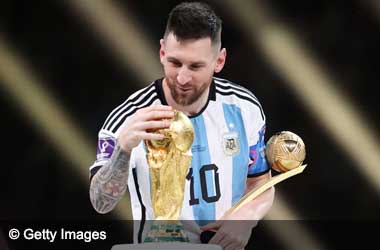 Summary
Argentina and France played the best World Cup final game in history
Argentina ended up winning in a penalty shootout
Messi achieves childhood dream, Mbappe wins Golden Boot
Football fans have been spoilt rotten the last month as the 2022 FIFA World Cup had some amazing games in the group stages and in the KO stages but none could match the spectacular show that Argentina and France put on in the World Cup final at the Lusail stadium on Sunday.
The "Greatest World Cup Final In History"
The first 70 minutes of the game looked very much like a one-sided game as Argentina were 2-0 and looked like they were coasting to victory as France looked slow and tired. Out of nowhere, Kylian Mbappé produced a burst of magic that saw him score in the 80th minute via a penalty and then again through a beautiful strike in the 81st minute to tie the game 2-2.
The game was pushed into extra time and Lionel Messi scored in the 108' minute to once again give Argentina a 3-2 lead and it looked like Argentina would win. But that man Mbappé came to the party once again as he won a penalty and then scored in the 118' minute to tie the game 3-3 and send it into a penalty shootout.
Argentina went into the penalty shootout with a better record and got the better of France to win 4-2 on penalties to win what is being billed as the greatest world cup final in history.
Even though our prediction ahead of the game was incorrect, we at LegitGambling.com are very happy that Argentina after 36 years have won their third World Cup and in doing so their captain Lionel Messi most importantly has fulfilled his childhood dream of winning a World Cup for Argentina. His teammates said at the start of the World Cup that they wanted to win the Cup for both Argentina and Messi and give him a fitting farewell as the 35 year old has previously confirmed the final would be his last game for Argentina.
Kylian Mbappé Wins Golden Boot
Kylian Mbappé put on a magnificent display of football to show why he is the highest paid footballer in the world.
He scored a hat trick in the final but it wasn't good enough to win France the World cup but it was good enough to help him win the Golden Boot and finish as the tournament's highest goal scorer with 8 goals while Messi finished in second place with 7 goals and the World Cup!
If you thought football is going to stop for a few weeks after all the drama of the World Cup, then you would be wrong.. The Premier League kicks off once again next weekend in the traditional boxing day fixtures.