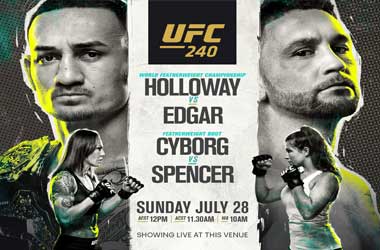 UFC 240 takes place on Saturday, July 27th, at the Rogers Place in Edmonton, Canada. The card is being headlined by Max Holloway and Frankie Edgar for the Featherweight championship of the world. This is a long-awaited title fight between two of the best to ever do it at 145.
The Co-Main event features Cris Cyborg make her return after losing her belt to Amanda Nunes, taking on undefeated prospect, Felica Spencer.
The card also features many other great fights, including a Welterweight showdown between Geoff Neal and Niko Price.
Best Sports Sites To Bet On UFC 240
UFC – Ultimate Fighting Championship
Main Event Breakdown
We will be focussing on the stand out fight of the night, I think Holloway should be the clear favourite. Despite his last fight being a loss to Dustin Poirier at UFC 236 for the interim Lightweight title, he is still a special animal at 145. Edgar does have a chance though, considering how much of a veteran the former Lightweight champ is.
Max Holloway
Odds to win: -400
As I said before, I really like Holloway in this fight. He's the bigger, taller, and longer guy against Edgar and has tremendous pressure. Also, his pace is unmatched at Featherweight as well, as we've seen with his ferocious wins recently over Anthony Pettis, Jose Aldo (twice) and Brian Ortega.
Holloway has a great recipe to defeat Edgar. I think with his reach, height, and pressure, it is going to put Edgar in uncomfortable situations early on, and he'll have an uphill battle early on. Holloway also has great use of range as well, which I think will pose an issue in this fight.
Frankie Edgar
Odds to win: +300
For Frankie, I think he has three big perks heading into this fight. The first is obviously his wrestling ability. Holloway is a tough cookie to get on the mat, but with as much experience as Edgar has, it wouldn't surprise me to see the early shots from Edgar be successful.
I look back at the Yair Rodriguez fight specifically, where he neutralized Yair's dynamic striking by smothering him and having beautiful ground and pound, leading the doctor to eventually stop the fight after round 2.
Another perk of Edgar's is his ability to close the distance with his boxing. I think to this day; Frankie's hands are incredibly underrated and should be taken more seriously than they are. The ability to close the distance on a guy like Holloway will be crucial for his victory, and he has just the tools to do so.
Finally, Frankie Edgar carries tremendous heart into each and every fight. The guy is so hard to put away and has only ever been finished once in his 29-fight career. If he is put through adversity by Holloway, everyone knows "The Answer" still has a chance to come back.
Official Pick
As a longtime fan of both MMA and the UFC, I really would love to see Frankie Edgar reclaim UFC gold. Sadly though, this is one of the worst matchups stylistically he could face right now.
I see Holloway coming back from his recent loss hungry and looking to make sure that he solidifies his status as a champion. He'll use his pressure to slowly pick apart Edgar, chopping him down with kicks and straight punches.
I think we may see some eventual success here and there for Edgar, whether it be closing the distance and landing a good punch or scoring a takedown. However, I just don't think Edgar will be able to produce enough of it to put him in a position to win.
Holloway will steal the night at UFC 240, wrapping up the legend Frankie Edgar via TKO in the third round