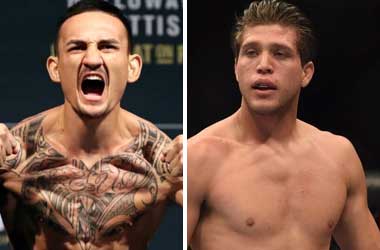 Toronto has a crazy love for combat sports and the UFC has always had a soft spot for the city. UFC231 will take place at the Scotiabank Arena on December 8 as the premier MMA organization has put together a stacked card featuring two title fights.
Max 'Blessed' Holloway has special memories of Toronto as he won the interim featherweight championship in the city and has a strong fan base.
Holloway takes on the undefeated Brian 'T-City' Ortega in a featherweight title clash that MMA analysts claim is the biggest fight in the featherweight division since Aldo vs. McGregor.
This is the second time that the UFC is trying to schedule Holloway vs. Ortega. The first time the fight was scrapped a couple of days before it could go down as Holloway suffered medical complications. There continues to be a lot of mystery surrounding his health as Holloway has said that there is still no clear indication as to what was wrong with his health.
UFC – Ultimate Fighting Championship
The UFC as a backup opponent in Renato Moicano in case anything happens to either Holloway or Ortega in the next couple of days. However, MMA fans want to see Holloway and Ortega clash as both of them are young lions who are in their prime and they promise to deliver an epic fight.
The key will once again be the weight cut. Holloway has had trouble this year making 145 pounds and one needs to see how much the weight cut will impact his health and performance.
Shevchenko vs. Jedrzejczyk Co-Main Event
This is another epic fight as the UFC has put the women's flyweight title on the line. Bullet Shevchenko faced Jedrzejczyk on more than one occasion under Muay Thai rules over 10 years ago and has come out victorious.
However, she knows that Joanna Jedrzejczyk has improved significantly during the last decade and is looking to become the first female fighter in the UFC to hold championships in two divisions.
Top Fights In Store For Toronto Fans
Apart from a great Main Event and Co-Main Event, the UFC has put together a number of interesting fights for Toronto. Some of the fights featuring on the Main Card include the UK's Jimi Manuwa taking on Brazil's Thiago Santos in the Light Heavyweight division and Brazil's Alex 'Cowboy' Oliveira taking on Iceland's Gunnar Nelson.