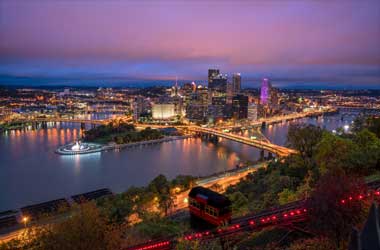 Gaming regulators in Pennsylvania issued the first pair of sport betting licenses on October 3. The Pennsylvania Gaming Control Board (PGCB) awarded sports betting licenses to the Parx Casino in Bensalem and the Hollywood Casino in Dauphin County. Parx Casino plans to start accepting sports bets in November just ahead of the NFL playoffs.
The casinos showed the gaming board their proposed designs and both appear to promise a full-blown sports betting experience. A temporary sportsbook is planned for Parx Casino's 360 Lounge. It will have a dozen self-serve kiosks along with seven betting windows. The lounge will have a pair of 16-9-foot high-definition televisions that will display betting odds while numerous 75-inch television screens will be showing live sports.
Parx also plans on spending a million dollars on renovations to the South Philadelphia Turf Club. It will be a satellite wagering outlet that will feature 150 high-definition televisions. Chief technology officer of Parx parent company, John Dixon boasted that guests could watch almost any game that's on TV.
The Hollywood Casino's sportsbook is going to be set up in the 5,000-square-foot theater that currently simulcasts horse-racing. It will have around 60 televisions and it is expected to be up and running in a few months.
Pennsylvania Keeps Up With Neighboring States
Since the U.S. Supreme court lifted the sports betting ban in May, three of Pennsylvania's neighboring states have passed legislation to legalize sports betting. Sportsbooks in New Jersey, Delaware, and West Virginia also offer online betting platforms catering exclusively to punters living in those states. Parx officials said that they would like to launch an online sports betting platform in January but it may take a bit longer because more regulatory approvals are required.
Online Platform To Follow
Tony Ricci, CEO of Parx's parent company explained that there are many pieces to the online sports betting puzzle and it will take time for everything to fall in place. However, Parx wants to offer in-house wireless betting right away. This will make it easier for visitors to bet on games that are in progress. They also claim that live betting makes up a large portion of New Jersey's sports betting activity.
Casinos complained about Pennsylvania's $10 million license fee as well as the high tax rate of 36 percent. Even though they claimed that these fees and taxes would be a serious impediment, five casinos have applied for sportsbook licenses. Harrah's, SugarHouse and Rivers Casino expect that their applications will be taken up a gaming board meeting that is to be held on October 31.