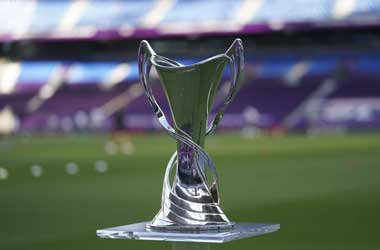 Lyon's reign atop the UEFA Women's Champions League is officially over.
The French side has won the last five Champions League titles, but after they were knocked out in the quarterfinals, there will be a new winner this year as Chelsea faces Barcelona.
The final is set for Sunday, May 16 at 3:00 EST at Gamla Ullevi in Gothenburg, Sweden. For the Blues, this will be their first time in the Champions League final. Meanwhile, Barcelona is in the final for the second time, losing 4-1 to Lyon two years ago.
During the current Champions League campaign, Barcelona has already beaten an English side, taking out Manchester City in the quarterfinals before escaping a tight semifinal with PSG on a 3-2 aggregate score.
Meanwhile, Chelsea eliminated Spanish side Atletico Madrid in the Round of 16 before dominating German clubs Wolfsburg and Bayern Munich in the quarterfinals and semifinals, respectively.
Bet On Chelsea vs. Barcelona On Our Best Sportsbooks
* Odds have been provided by William Hill and are accurate of May 12, 2021
Chelsea
Key Player: Samantha Kerr
UK fans will know the Blues have an abundance of attacking talent in their squad. Chelsea averaged three goals per game during the domestic season while winning the FA Women's Super League title. Likewise, they've scored 21 goals in Champions League games. English international Fran Kirby enters the final tied for the most goals during the Champions League this season with six. Meanwhile, Danish international Pernille Harder has scored four goals for Chelsea during the Champions League season.
However, Kirby and Pernillie only scratch the surface of Chelsea's offensive firepower. Samantha Kerr is arguably the most dangerous member of the Chelsea attack. The Australian international has been one of the world's elite strikers for the past decade. Together, Kerr and Kirby have combined for 51 of Chelsea's goals during the 22-game Super League season, exemplifying how proficient the Blues are in the final third.
Of course, Chelsea is not without its defensive prowess as well. Captain Magdalena Ericsson and English international Millie Bright help to anchor a strong Chelsea backline. The Blues conceded just 10 goals in 22 matches during the Super League season. They also managed a clean sheet in three of their eight matches during the Champions League knockout stage. In total, they conceded seven goals in those eight matches, although three of them came against Bayern Munich in the two legs of the semifinals.
Odds To Win: 10/3 (+333)
Barcelona
Key Player: Jennifer Hermoso
Barcelona settled the title last weekend after running away with the Primera División title in Spain. After winning last season's title by a modest nine points, the Barcelona women have won all 25 of their domestic games this season, conceding just five total goals and averaging over five goals per game. They've been just as impressive during the Champions League campaign, outscoring their opponents 24-6 over eight games. However, they only beat PSG 3-2 over two legs in the semifinals, indicating that the final against Chelsea could be just as competitive.
FC Barcelona
The Spanish giants are more of a midfield-oriented team than their English counterparts. The likes of Vicky Losada, Alexia Putellas and Patricia Guijarro are all veterans of the Spanish national team and will look to control possession in the midfield and deny Chelsea's attacking players possession. Norwegian international Carolina Graham Hansen also adds plenty of punch to the Barcelona midfield.
Of course, Barcelona also has plenty of attacking firepower. Jennifer Hermoso is tied with Kirby for the Champions League lead with six goals. Dutch star Lieke Martens is close behind with five goals during the Champions League campaign, while Nigerian striker Asisat Oshoala has scored four times during the Champions League. Oshoala scored Barcelona's only goal in the Champions League final loss to Lyon two years ago and could be the most challenging player for the Chelsea backline to defend.
Odds To Win: 3/4 (-133)
Prediction
In many ways, Barcelona has made a mockery of the competition in Spain this season. But the top clubs in Europe are no pushover. Chelsea, in particular, has dominated a far more challenging league in England. Even if Barcelona can win the time of possession battle with a strong midfield, the Blues have too much class in the final third with Kerr and Kirby. Ultimately, Chelsea will prevail in a game that could see a handful of goals.