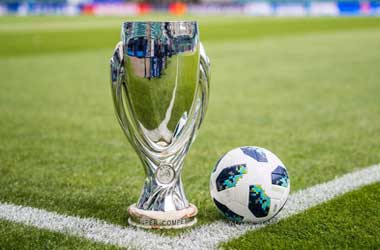 The curtain raiser of the European football season is upon us as the 2021 UEFA Super Cup looms large at Windsor Park in Belfast. Every year the competition sees the winners of the Champions League meet the winners of the Europa League in a game that, more often than not, tends to produce more fireworks than we may all initially expect.
One year ago, we saw Bayern Munich edge past Sevilla 2-1 in extra time to secure their second title, and this time around, there will be another Spanish club hoping to lift the trophy high in the form of Villarreal.
They'll be locking horns with UCL winners Chelsea on Wednesday, August 11 as the countdown to the start of the new campaign nears its end.
The Super Cup may not be the kind of showpiece event that's going to rock the continent, but at the very least, it's an intriguing fixture that marks the return of football we've all been waiting for since the end of Euro 2020.
Bet On Chelsea vs. Villarreal On Our Best To Sportsbooks
SuperSport_
* Odds have been provided by Bet365 and are accurate as of 09/08/2021
How did the two teams reach the final?
In what wound up being a bit of an underdog story, Chelsea stunned a whole lot of fans last season when they made it to the Champions League final. The expectation was that they'd fall short given they were going up against Manchester City, but as they'd already done multiple times in the weeks prior, they beat Pep Guardiola's men with a late first-half strike from Kai Havertz being enough to seal the deal.
Villarreal also weren't exactly tipped for stardom at the beginning of the Europa League knockout stage but instead of wallowing in self-pity, they picked themselves up and slugged their way through to the final. When they got there, they were greeted by favourites Manchester United, and after 120 minutes of tension and a 1-1 scoreline, it was the boys in yellow who won it all in a dramatic 11-10 penalty shootout triumph.
Chelsea FC
Key Player: N'Golo Kante
Chelsea are coming into the new Premier League season off the back of a real momentum-building few months that saw Thomas Tuchel vault himself into contention as one of the best managerial signings in recent memory. How long he ends up staying at Stamford Bridge is an entirely different matter but between their playing style and some of the rumoured transfers they're about to make, this club could be on track for something special.
There's a certain free-flowing nature to Chelsea's game that has to leave them as favourites to win this, especially when you look at how defensively capable they are in association with that attacking prowess. They are efficient with their energy, they're composed, and when the big moments come they tend to shine.
With regards to their key player, it's obvious to see just how influential N'Golo Kante continues to be as part of this team. Everything flows through him in the middle of the park with there now being far less of a divide in terms of how the masses actually view his abilities. The Frenchman pieces together just about every passage of play and that's what everyone will be expecting to see on his return to the big stage.
Odds To Win: 1.75
Villarreal
Key Player: Gerard Moreno
Villarreal finished seventh in La Liga last season which, in itself, probably gives you a pretty clear idea of what they were or were not expected to accomplish in the Europa League. Alas, they seem to have retained many of their top stars as a result of their Champions League qualification, and they're the kind of team that can easily frustrate you for 90 minutes before a cheeky counter-attack steals them the win.
They're obviously going to have to play it a bit smarter than that if they want to beat a side like Chelsea, but if they can be physical from the word go and let them feel their presence, it could become quite dull and uncomfortable pretty quickly – which is exactly what they should want.
Gerard Moreno scores goals for fun and he got another in the Europa League final last season, to the surprise of pretty much nobody. If he's fit enough he is definitely going to be the best outlet for goals within this Villarreal side and the man himself will be well aware of that fact. It's going to be tricky for him to find the right kind of distribution given how tight Chelsea are at the back, but all it takes is one moment of magic.
Odds To Win: 4.75
Our Predication
While we'd love to see this turn into a back and forth battle that ends in a parade of goals, the nature of these two teams would seem to imply the opposite. Chelsea are bound to find any excuse to keep possession in an attempt to really tire Villarreal out whereas the underdogs will be more than content to sit back and welcome any lingering pressure that's bound to come their way.
Unfortunately for Villarreal, we don't expect them to stem the flow for all too long, with the Blues likely taking the lead just before half-time.
From there they'll be forced to come out and really go after the European champions but in doing so, they'll almost certainly leave themselves vulnerable at the back – swinging the door wide open for Chelsea to score a second and seal a 2-0 win.
It's not a trophy that's going to have anywhere near the same level of prestige as the European Cup, but it'll get Chelsea up and running in the kind of way that should allow Tuchel and his men to kick on in the Premier League and beyond.