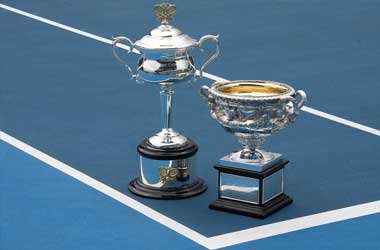 The delayed Australian Open is set to kick off on Monday, February 8 as the first Grand Slam of the year, where we will see some of the best women and men tennis players compete for the prestigious title and the largest share of AUD $80,000,000 prize pool. It will mark the 109th edition of the Australian Open and the 53rd of in the Open era.
The tournament was originally scheduled for January 18-31 but got postponed for three weeks due to the COVID-19 pandemic. With that, the 2021 event will take place later than in previous years, while it's also important to note that some players will have had a good amount of training time before the tournament, while others will be coming off a 14-day quarantine, leaving them with only one week to shrug off their rustiness.
When it comes to the Australian Open, the Melbourne scorching hot weather is a rather big factor that should be taken into consideration when predicting the winner. With temperatures reaching up to 40 degrees Celsius (104°F), even players with exceptional physical fitness get pushed to their limits, which is why only supremely fit athletes tend to make a deep run.
Best Online Sports Betting Sites To Bet On Aussie Open 2021
Looking back at previous winners, there is an interesting trend when we compare the men's and women's singles winners. Novak Djoković has won seven out of the previous 10 titles in the men's section (Roger Federer in 2017, 2018 and Stan Wawrinka in 2014), while there were eight different women champions across the last 10 years with Serena Williams (2015, 2017) and Victoria Azarenka (2012, 2013) as the only two players who have won the title twice in that stretch.
For the 2021 Australian Open, there will be a few notable absentees, particularly amongst men. The five-time champion Roger Federer has decided to skip the tournament as he recovers from knee surgery, Andy Murray did not take a trip to Australia after he has tested positive for coronavirus, whereas John Isner withdrew due to the quarantine restrictions in the country.
On the women's side, Madison Keys and Amanda Anisimova both tested positive for COVID-19 and did not travel to Australia, while Kiki Bertens will miss the event due to an Achilles injury.
With the basic information out of the way, all that there's left to do is to take a look at the main contenders and give our insight of their strength. weaknesses and ultimately who has the best chance to hoist the trophy. Here are our predictions for the 2021 Australian Open, with best odds courtesy of the top-rated bookmakers.
* Odds have been provided by Bet365 and are accurate as of 05/02/2021
Australian Open TV
Mens Prediction
Favourite: Novak Djokovic (2.25)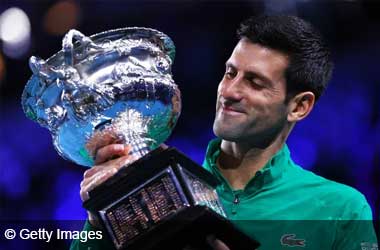 It's no surprise to see the Serbian tennis superstar priced as the main favourite for the 2021 Australian Open, seeing how eight of Djoković's Grand Slam titles have been won in Melbourne. What's more, he has won in Australia in seven out of the last 10 editions including last years title.
Besides his exceptional record in Australia, the Serb is now only three Grand Slam titles away from catching up to Roger Federer and Rafael Nadal who share the men's record of 20 singles titles.
That should serve as additional motivation, as he is now possibly only one season away from solidifying himself as one of the greatest tennis players of all time.
Adding to that, Djokovic has been in a separate bubble in Adelaide ahead of the Australian Open, which could potentially work in his favour as he was not subject to Australia's quarantine rules such as most other players.
Sleeper Pick: Daniil Medvedev (5.50)
Daniil Medvedev's excellent end of the 2020 season makes him one of the most exciting players to watch, although it remains to be seen whether he can sustain his form into the new season.
Medvedev started the 2020 season with two mediocre finishes at the Australian Open and French Open (Round 4, Round 1), but has seemingly found his form at the US Open, where the Russian tennis player reached the semi-finals. He then went on to finish the year with a bang and won the ATP Finals where he reverse-swept Dominic Thiem.
Longshot: Dominic Thiem (6.00)
Perhaps not a proper longshot bet, but we couldn't pass on mentioning Dominic Thiem, who enters the 2021 Australia Open priced at very generous odds.
He might not be as successful as Djoković, but the Austrian tennis player has proven he can compete with the best with his US Open title last September. After winning the US Open, he then went on to reach the finals of the ATP World Tour finals for the second year in a row. Last year, Thiem made it to the grand finals of the Australia Open where he lost to Djokovic after five sets.
Like Djokovic, Thiem was in the Adelaide bubble, where he enjoyed far better conditions than those who were confined in Melbourne hotels. At 6.00, Thiem seems slightly overpriced and is a solid bet to win his second Grand Slam.
Other Selected Odds
Rafael Nadal (6.00)
Nick Kyrgios (34.00)
Stan Wawrinka (51.00)
Kei Nishikori (151.00)
Women's Prediction
Favourite: Naomi Osaka (6.50)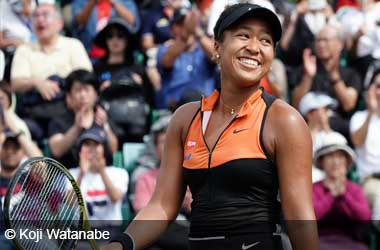 Naomi Osaka is the favourite to win the Australian Open with most bookmakers and comes off as a great bet at 6.0.
She is entering the 2021 season off an excellent 16-2 record in 2020, which includes a US Open title, where he locked in her third Grand Slam of her career.
Osaka already won in Melbourne in 2019, when she beat Petra Kvitová in the grand finals, although she crashed out of the event early in 2020 when she suffered an upset loss against Coco Gauff in the third round.
Sleeper Pick: Ashleigh Barty (8.00)
Ashleigh Barty took an extended break from tennis due to the pandemic and skipped the US Open and French Open, where she would have been the defending champion. Regardless of her lack of playtime, Barty has had a chance to warm up before the main event in some of the Melbourne's tournaments, so it's hard to say she will enter the Australian Open ring rusty.
The home favourite has also enjoyed some of her career's best performances in Melbourne, where she has reached quarter-finals in 2019 and semi-finals in 2020. And if those performances are any indication, we can expect another deep run from her this time out.
Longshot: Sofia Kenin (17.00)
Sofia Kenin made quite a splash last year when she won the Australian Open after edging past Barty in the last four and then beaten Garbine Muguruza in the grand finals. But it did not stop there for the 22-year old American, who went on to reach the finals of the French Open and made it to the fourth round of the US Open, which marked her career' best placement at the home event.
There are arguments to be made Kenin is not as good as some of the favourites, but she is definitely one of the players that can surprise. She is a very versatile and tenacious player that should be considered as an excellent long-shot bet.
Other Selected Odds
Serena Williams (9.00)
Simona Halep (11.00)
Petra Kvitova (17.00)
Cori Gauff (26.00)
Our Prediction
In the men's division, it's difficult to bet against Novak Djokovic, however, at the offered odds, we like Dominic Thiem far better as a betting pick. He has proven time and time again that he is capable of winning big titles and there is no reason to believe he can't do it here.
If Thiem wins the 201 Australian Open, he would also become the first player outside the "Big Four" to become the world no.2 since Lleyton Hewitt in 2005, so he definitely has a lot of reasons to step up and deliver.
On the other side, we will back two women tennis players for this tournament. While Osaka is rightfully the main favourite, it's Barty who seems a bit overpriced at the offered odds. Much of the same holds true for Kenin, who shouldn't be priced nearly as high as she is and is more than capable of reaching at least the finals.