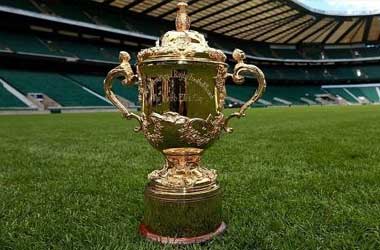 The 2019 Rugby World Cup in Japan has had its fair share of excitement, controversy and challenges during the playoffs.
That stage is now over and done with and rugby fans around the world are eagerly awaiting the quarter-finals which will be played this weekend.
Looking back at our predictions before the tournament, the 5 teams we picked to look out for which included hosts Japan, have all managed to make it to the next stage…
Best Online Sportsbooks To Bet On The Rugby World Cup 2019
World Rugby
RWC 2019: Quarter-Finals Match Analysis
We now take a look at the four quarter-final matches and pick out which four teams we think will make it to the semi-finals.
* Odds have been provided by 888sport and are accurate as of 15/10/2019
England vs. Australia
(Saturday 19 October, 16:15 JST)
The first quarter-final will see England take on Australia and this is going to be a close match even though the sportsbooks have England as a clear favourite.
The Aussies have not played as well as they can during this World Cup but have made it a habit to peak against England. The two players to watch out for are Owen Farrel for England and David Pocock for Australia.
Odds To Win: 3/10 (England), 5/2 (Australia)
New Zealand vs. Ireland
(Saturday 19 October, 19:15 JST)
The All Blacks are the defending champions and the betting favourites with odds of 1.20 to Ireland's 4.60. New Zealand did not play their last game which was abandoned due to Typhoon Hagibis.
The All Blacks are well rested and could very well start with the trio of Barrett brothers. Ireland will depend heavily on Conor Murray if they are to pull off a surprise win against the All Blacks on Oct 19.
Odds To Win: 1/5 (New Zealand), 18/5 (Ireland)
Wales vs. France
(Sunday 20 October, 16:15 JST)
This is the third quarter-final match that will be played on October 20. Wales go in as the favourites with betting odds of 1.35 to France's 3.20.
However, don't let the betting odds fool you as France have a great team and will believe they can pull off an upset. Their key players are Antoine Dupont and Alivereti Raka. Wales have not played too potential during this World Cup and will be eager to put on a display in the quarter-finals. Alun Wyn Jones who is the captain of Wales will be a key player in this game.
Odds To Win: 7/20 (Wales), 11/5 (France)
Japan vs. South Africa
(Sunday 20 October, 19:15 JST)
Hosts Japan pulled off a fantastic win against Scotland and became the first Asian team to qualify for the quarter-finals at a Rugby World Cup. They will have all the support in the world as they have shown immense courage and grit throughout this World Cup.
South Africa are the betting favourites with odds of 1.13 to Japan's 5.75. Japan have already upset South Africa before and will be hoping they can pull off another victory in front of their home fans.
Odds To Win: 19/4 (Japan), 2/15 (South Africa)