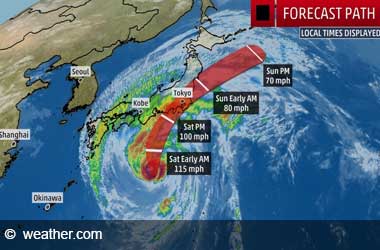 The 2019 Rugby World Cup in Japan has been pretty awesome so far but chaos has erupted this week as the organisers decided to cancel two important matches due to Typhoon Hagibis.
Typhoon Hagibis is expected to hit make landfall on today and cause immense destruction as it is rated as the category 5 typhoon and is touted as the biggest typhoon to hit Japan in 2019. The authorities are expected to cancel both flights and trains as the typhoon approaches.
The organisers have decided not to take any chances as the Japan Rugby 2019 Organising Committee and World Rugby announced the cancellation of two matches for the first time in World Cup rugby history.
Why not checkout our predictions for the Rugby World Cup 2019 here…
The organisers have confirmed that New Zealand vs. Italy in Pool B and England vs. France in Pool C which are scheduled to take place on October 12 will be cancelled. Each team will get 2 points as the match will be classed as a draw.
Guardian Sport
The fans understand the severity of Typhoon Hagibis but are nevertheless disappointed that these two eagerly anticipated matches will not take place. Those who bought tickets to these games will receive a full refund. The organisers have confirmed that the October 11 clash between Australia and Georgia will take as per schedule.
There are also reports that a third game between Scotland and hosts Japan which is scheduled for October 12 could also be cancelled.
World Rugby Accused Of Bias
Scotland desperately need their match against Japan to take place and the Scotts need to win in order to qualify for the quarter-finals. If the match is cancelled, both teams get 2 points and it will not be enough for Scotland to qualify. Scotland has asked for their game to be pushed to Monday to ensure that it takes place but it appears that World Rugby might not accept this request.
Scotland isn't happy with the treatment being dished out as they fell World Rugby is being biased towards hosts Japan who will qualify for the quarter-finals if the game does not take place. Scotland has threatened to take legal action if the game does not take place and said that they will do whatever is required to move forward with the game.
World Rugby said all the teams agreed to the rules before the tournament began and knew that games could not be postponed!