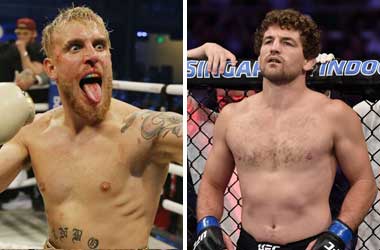 The world of Boxing just got a little bit wilder, with internet celebrity Jake Paul challenging the former MMA champion and Olympic wrestler Ben Askern to a boxing match that is set to happen on Saturday, April 17, at the Mercedes-Benz Stadium in Atlanta.
Some people believe Jake Paul can fight, and that might be true, but let's get real. He is facing a decorated professional fighter with years of experience in the ring.
While Askern is not a boxer, nor is he one of the best strikers in the world, he is still Bellator and ONE Welterweight Champion, whereas Jake Paul is a YouTuber with 20.3 million subscribers.
Who would you rather face in a ring?
Let's break it all down for the boxing match between Jake Paul and Ben Askren with our Boxing betting odds and Predictions.
Best Betting Sites To Bet On "UFC vs. YouTube" fight
How the fight came to be?
The older of the Paul brothers, Logan, was the first of the two to cross over to the boxing world in November 2019, when he fought against another internet celebrity and rapper KSI. And as it was expected from his younger brother, Jake did not long to follow suit and buy his own pair of boxing gloves.
In January 2020, Jake made his boxing debut when he booked a fight against a British YouTuber Ali Loui "AnEsonGib" Al-Fakhiri, which he won via first-round stoppage. And it seems like his commanding win against a rival internet celebrity sparked Jake's interest to launch his professional boxing career.
Before long, Jake found himself in the ring against an American former professional basketball player Nate Robinson, who he fought as a part of the undercard for the Mike Tyson vs. Roy Jones Jr. exhibition match in November 2020. And to many people's surprise, Jake secured another KO win in the second round.
That win has helped Jake become a bit more confident in his boxing abilities, and he did not need long to call out the likes Conor McGregor, Dillon Danis and Askren to meet him in the ring. Out of the three, only Askern responded to the challenge, claiming boxing Jake sounds more "like a fun Friday night" rather than a proper challenge.
Known for his cockiness, it shouldn't surprise anyone that Paul called out some of the best in the sport to fight him but has bitten off more than he can chew by challenging a professional fighter?
The UFC vs. YouTube
As a bout between a YouTube celebrity and a professional UFC fighter, this bout is billed as the "UFC vs. YouTube fight", with each fighter representing their community. Although this puts more pressure on Askern to prove professional athletes are superior in their own sport to celebrities who make YouTube videos, it also paints a clear picture of what kind of a fight we are in.
Had all the stars aligned, we would also be in for a "YouTube vs. Boxing" match between Logan Paul and Floyd Mayweather; however, that fight has yet to be announced. At first, it was speculated that Mayweather would reject Logan, but the former six-division world champion later revealed he is ready to fight Logan solely due to the money he could make from the event.
While the date for the Floyd Mayweather vs. Logan Paul fight has yet to be announced, Paul has confirmed on his podcast that the fight is still happening, albeit at a later date.
FITE
Things to Watch For
* Odds have been provided by BetOnline and are accurate as of 07/04/2021
Ben Askern (19-2)
Current Odds: -110 (1.90)
The bookmakers have Ben Askern as a -110 underdog for this bout, which arguably makes some sense. Even though he is a retired professional fighter, Askern was never considered a good striker in MMA but was instead known for wrestling and brutal ground strikes.
That, however, won't give him any advantages in a boxing ring, where it's all about striking. Looking at Askern's fights throughout his career, he seemed a bit sluggish and limited when standings, so while he is facing a relatively inexperienced fighter, Boxing is definitely not Askern's strong suit.
That is more or less the only real argument we can make against Askern. Even though he hasn't impressed with his striking, we can't ignore that he was facing some of the best fighters in the world, and let's not forget Askern has a 19-2 record, which includes wins against world-class competition.
Jake Paul (2-0)
Current Odds: -120 (1.83)
Unlike Askern, Jake Paul has yet to taste a defeat in his professional boxing career. However, it's up to debate how much his unbeaten record is worth, considering his (only two) opponents were another internet celebrity and a retired basketball player.
The main question we have to answer is whether Jake is ready for real competition? Since it's hard to take much from his two professional bouts, it's difficult to say whether Paul is a capable fighter; however, there must be a reason why he is priced as the favorite against a former MMA champion.
Askern's striking is rarely praised, but is it really that bad? If we were talking about a fight between two professional fighters, there is a good chance Askern's opponent would be the better striker, but when it comes to Jake Paul, he definitely doesn't have as much fighting experience as Askern.
Prediction
Jake has put in work to prepare himself for this fight, but it's hard to find a good reason why to side with him over Askern, who has fought much tougher opponents in his career. There is just too much value on a professional fighter, who should never be priced as an underdog against an inexperienced YouTube celebrity. Ben Askern – 110.