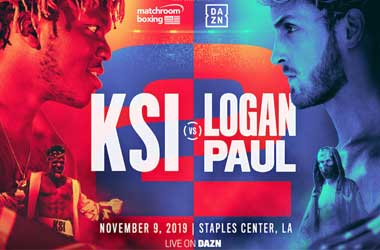 The KSI vs Logan Paul II bout might not be one of the biggest fights of this decade, nor will it feature some of the elite boxers, but what it lacks in that department, it will more than compensate with the huge amount of hype around it, which makes it one of the most heavily anticipated boxing events of 2019.
The KSI vs Logan Paul II is set to take place this Saturday, November 9, at Staples Center in Los Angeles.
As the name suggests, the fight will feature two well-known YouTube stars, KSI (Olajide Olatunji) and Logan Paul, and it will mark the rematch of the first fight that was held on August 25, 2019.
The first fight between KSI and Logan Paul was held in the Manchester Arena, Manchester, England and it ended in a majority draw, with two judges scoring 57-57 and the other 58-57 in favour of KSI.
Best Betting Sites To Bet On KSI vs Logan Paul: Rematch
Will this fight end in another draw is yet to be seen, but as the odds suggest, it's expected to be a fairly one-sided affair. And considering this fight will decide it once for all which of the two can call himself as the top dog, it's safe to say sparks are bound to fly at Staples Center this November.
In the first fight, the two fighters were amateurs. This time out, they will be taking off the headguards and will fight in an official boxing match. They will also replace the 12 oz. gloves for 10 oz. ones, which are used in real fights, making this fight far more exciting compared to the last year's bout. The fight will remain at six rounds at three minutes each.
When it comes to predicting the winner of the fight, there are not a lot of fights of the two fighters to examine, nor is there a lot of statistics about the participants for us to look over. With that in mind, the only thing we have that can help us with our prediction is the previous fight between the two fighters.
KSIvsLogan
What happened in the first fight?
The KSI vs Jake Paul I was Jake Paul's first-ever fight as a boxer, while it was the second boxing match if KSI's career who earned a TKO win over Joe Weller in February 2018.
While there was a lot of hype surrounding the first fight between the two YouTube stars, it was not nearly as entertaining as many had expected, and it's easy to see why. Both Logan Paul and KSI had a lot on the line in that fight and their huge egos did not help the cause. Both were aware that losing that night would be a huge blow to their name, their brand and a huge disappointment to millions of fans who tuned in to cheer and support them. Suffice to say, no fighter took too many risks, yet there were a few things we can take from that fight.
As soon as the fight started, Logan Paul managed to take over the control of the fight due to his size advantage. KSI on the other side decided for a similar strategy he used in the fight against Joe Weller, meaning he patiently waited for his opportunity to find an opening and look to end the fight with a KO. Unfortunately, not a lot of chances presented themselves that night, if any for that matter. Paul's size alone was enough to be on top of the fight, handing KSI more than a handful of overhand rights and a couple of left hooks.
At this point, it's worth wondering what would have happened if the headgear wasn't in play and if the two fighters had not been using 12 oz. gloves. Would KSI survive the punches he received in the first two rounds, or would it be enough to earn Logan Paul a TKO?
Nonetheless, Logan Paul's performance was not nearly as perfect as it may seem, as he is, at the end of the day, an amateur which makes amateur mistakes. The biggest of which was his decision to not deliver enough punches but rather wait for counters, which he did by dropping his gloves and baiting KSI into coming at him. However, that is where Paul also did most of the damage. Another thing we have noticed was that Logan Paul's stamina was not up to par with KSI's, which was clearly seen in the third round, when Paul looked very tired, unlike KSI, who seemed fairly fresh. That also shifted the fight into KSI's favour in the third and fourth round, as he took full advantage of his higher energy levels. Suffice to say, both third and fourth round ended in KSI's favour in a fairly dominant fashion.
The fifth and sixth round of the fight miraculously saw Logan Paul find a boost of energy, which kept him in the fight. Ane he was not only back in the fight, but managed to display the same level of power and aggression as he did in the first two rounds. As the fight started to unfold, it all seemed like KSI will fall, as he started to stumble under the punches from Logan Paul. That said, Logan Paul failed to take full advantage of the situation as was not able to land the final few punches before the final bell rang.
Pick and Prediction
* Odds have been provided by Bovada and are accurate as of 06/11/2019
Logan Paul: -200.00 (1.50)
KSI: +162.00 (2.62)
Considering what we have seen in the previous fight, we certainly have to give Logan Paul an advantage for the November's fight and the odds fairly reflect that.
Neither fighter is even close to being up to par with professional fighters, however, from what they have shown, Logan Paul should be the man to beat here. It's not only his physicality, but also overall approach to the fight that should work in his favour, and should he improve his stamina here, it's hard to imagine KSI as a real threat.
Both fighters have a lot to work on ahead of the rematch, however, if we are completely fair, KSI has a lot more tweaks to make and harder ones at that if he wishes to be seen as a favourite. KSI's biggest problem in our eyes was his footwork and quickness (or better yet lack of it), which would allow him to get closer to his opponent. It goes without saying that is especially useful in a fight against bigger men e.g. Logan Paul. Should he improve in those two elements, we would see him as a real threat here, however, it takes years for a fighter to improve in those aspects, leading us to believe he will enter the rematch lacking the mentioned skills once more.
Without the headgear and lighter gloves, the fighter with stronger punches will have a huge advantage and in this fight, that fighter is Logan Paul, who already has an advantage due to his size and his built.
Last but not least, the fight will take place in USA, the home ground of Logan Paul, meaning KSI will have to fight away from UK for the first time in his career. What effect will that have is anyone's guess, seeing how this will be his first fight outside of UK, however, even without the home crowd advantage, it's Logan Paul who we will side with due to all the mentioned reasons.