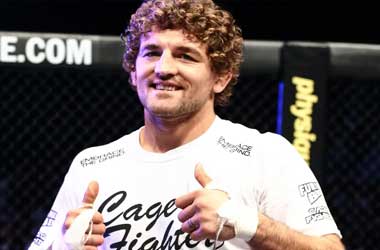 Ben Askren made huge headlines in the world of mixed-martial-arts when the UFC and ONE Championship decided to do their first trade. ONE gave the UFC their former welterweight champion in Askren and the UFC gave one Demetrious Johnson, their former flyweight champion.
Ben Askren's signing with the UFC made a lot of people happy as many believed that the UFC should have signed the Askren a long time ago. Askren was not only the welterweight champion at ONE but also the welterweight champion at Bellator.
Askren created a lot of buzz for the UFC with his outbursts on social media. He roasted fighters in different weight classes, was never shy to get on the Ariel Helwani' ESPN show and talk thrash and promoted himself as being the next UFC welterweight champion.
ESPN MMA
His first fight in the UFC resulted in a controversial win against former champ Robbie Lawler. The referee thought Lawler had passed out and called off the fight but soon after realised that Lawler was fine. Ben Askren would not entertain the idea of a rematch.
His second fight was against Jorge Masvidal and it had a huge build up with Askren giving Masvidal a lot of lip before the fight. However, the fight lasted just 5 seconds as Askren suffered his first loss after being knocked out with a flying knee. It was a hard pill for Ben Askren to swallow as social media warriors hammered him for talking thrash and then getting knocked out in 5 seconds.
His third and final fight against the UFC was against BJJ specialist and veteran Damian Maia in Singapore. Askren had never lost in Singapore and went in overconfident. It turned out to be his undoing as Maia submitted him and handed him his second loss. There were a number of people including his family who urged Askren to retire after his loss.
Hip Surgery Helps Askren Make Decision
Ben Askren appeared on the Ariel Helwani show on November 18 and announced that he had decided to retire from MMA. Askren said that his dream was to win the fight against Masvidal and then challenge UFC welterweight champion Kamaru Usman or the belt.
However, things did not work out as per his plan and the fact that he needs to undergo a hip replacement made it easier for him to take a call on his MMA career. Askren has different business interests outside the UFC and will keep himself busy once his surgery is done.