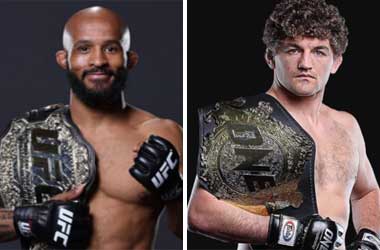 Professional players being traded in the major leagues such as the NFL, NBA, NHL and MLB are a common occurrence.
It is not common in the sport of Mixed Martial Arts (MMA) because MMA never really had the presence or power of the major leagues but that's set to change.
Top reporters in the MMA community have confirmed that the first ever trade-off between the Ultimate Fighting Championship (UFC) and ONE Championship, a top Asian promotion has gone down.
The trade-off will see UFC's Demetrious 'Mighty Mouse' Johnson being traded to ONE in place of former Olympian and ONE welterweight champion Ben Askren.
'Mighty Mouse' will go down as one of the greatest fighters in MMA as he held the Flyweight belt for a number of years and created history by defending his title eleven consecutive fights. He lost his title earlier this year to former Olympian Henry Cejudo on August 4 and took a break because he wanted his body to heal up.
MMAFightingonSBN
UFC President Dana White wasn't too impressed with 'Mighty Mouse' because he refused to defend his belt against TJ Dillashaw who is the current UFC Bantamweight champion. The other drawback with 'Mighty Mouse' was that he rarely headlined a pay-per-view card as he could not carry a card and sell it – which meant he mostly headlined Fight Nights on Fox. Johnson's coach is employed by ONE and the former champion has spoken about moving to different organizations where he would be more appreciated and better paid. The UFC will waive off the remaining fights in his contract and exchange him for Ben Askren.
UFC's Welterweight Division Gets Very Interesting
Ben Askren retired from ONE even though he had a few fights left on his contract. However, ONE will waive off those fights and exchange him to the UFC. The UFC wasn't too keen on signing Askren in the past because there was a few differences between him and Dana White.
It looks like all that is now in the past as Askren tweeted 'Now you're all in big big trouble!' sending notice to the Welterweight division. Ben Askren isn't known for being a great striker but he is a phenomenal wrestler who is very interested in testing his skills against the likes of GSP and going down a weight class to challenge the 'Eagle of Dagestan' Khabib Nurmagomedov.