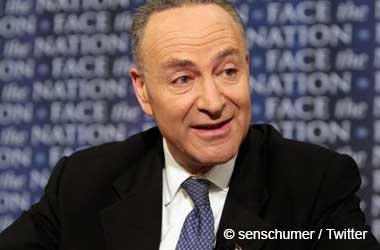 ESPN has alleged received a memo where Senate Minority Leader Chuck Schumer has asked for a federal framework to be put in place for sports betting to be rolled out across the United States.
Among his suggestions, Schumer said that all bookmakers should only use official data that is provided by sports leagues to determine outcomes and that leagues should be part of the decision-making process in determining what bets should be accepted.
Schumer also hinted that he supports the idea of leagues increasing their monitoring but he didn't go so far as to call for "integrity fees" which would see sports leagues receive compensation for beefing up their security in relation to open sports betting.
He also called for common restrictions such as making it illegal for sports bets to be placed by anyone under 21, gambling companies do not use advertising to target young people and that ads should educate people on the dangers of gambling.
Leagues Could Benefit If Their Data Is Official
Making bookmakers use official data provided by leagues could create a lucrative revenue generator for sporting leagues across the country. However, many opponents of the measure state that doing so would create a monopoly for the leagues and it isn't an integral component to the "sanctity of a bet".
Schumer said that his priority is to maintain the integrity of sports and that he doesn't want to see young people and those with gambling problems taken advantage of.
He feels that it is the federal government's responsibility to take the lead in providing the required guidance that is needed to prevent uncertainty and confusion among leagues, governments and consumers. It is his opinion that individual states can decide whether or not to legalize sports betting but they shouldn't be able to make their own rules. The NBA, MLB, and the PGA Tour jointly stated that they support Schumer's ideas.
Other Leagues Also Show Support
The NFL and NCAA also stated that they applaud Schumer's leadership on the matter and that maintaining the integrity of sports is of utmost importance. The American Gaming Association (AGA) chimed in as well saying that they shared Schumer's goal of maintaining integrity in sports and making sure consumers are protected.
Despite the support, it is unlikely that such a bill would be pushed through Congress with just 4 months left in the current session.