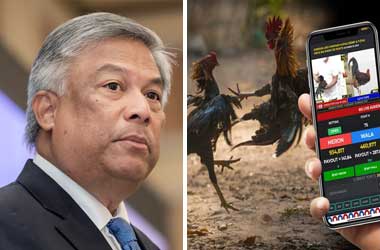 Summary:
The case was filed before the Office of the Ombudsman by an individual involved in e-Sabong
PAGCOR allegedly illegally released a performance bond posted by the complainant
Among those sued are PAGCOR Chair Alejandro Tengco and his predecessor Andrea Domingo
Key officials of the Philippine Amusement and Gaming Corp. (PAGCOR), both former and current, are facing graft charges before the Office of the Ombudsman over the alleged unlawful release of a performance bond amounting to PHP75 million (US$1.3 million).
The bond was posted by a company involved in e-Sabong, an online wagering on live cockfighting matches which is now banned in the country.
Former and Current PAGCOR Boss Hit with Graft Case
The graft case was filed by Joaquin Sy, chairman of the board and chief finance officer of Kamura Highlands Gaming and Holdings, Inc., against current PAGCOR chairman Alejandro Tengco, his chief of staff Dianne Erica Jogno, as well as Tengco's predecessor Andrea Domingo.
Also listed as defendants in the case are former PAGCOR board members, Reynaldo Concordia, Carmen Pedrosa, James Patrick Bondoc and Gabriel Claudio, along with Jewel Castro and his parents Simplicio and Rizalina Castro, all of whom held key roles at Kamura.
Kamura obtained an e-Sabong license in November 2021 and was approved by PAGCOR to commence operations on May 1, 2022. But in the same month, then-President Rodrigo Duterte decided to terminate e-Sabong because of its social impact. Since then, e-Sabong operations have been considered illegal in the Philippines.
Duterte's declaration came just a few weeks after Sy posted the bond and he immediately contacted ex-PAGCOR chair Domingo for the withdrawal of the bond.
Sy claimed he did not receive any response from the agency despite several follow-ups. He only got word from the regulator in July this year, confirming that the PHP75 million was released in cheque to Castro in September 2022 and that the funds were enchased right away.
Tengco Vows to Investigate PAGCOR's Alleged Illegal Practice
Sy said the bond's release did not comply with government accounting procedures and was also in breach of the General Appropriations Act. Based on records, Sy has been the majority shareholder of Kamura since 2021. In February 2022, he was elected chairman of the board and treasurer.
The respondents face charges of qualified theft, malversation of public funds, and falsification of private and commercial documents.
Responding to the legal action, Tengco said it was strange that they were included in the charges when the alleged crime happened before they took office. But he vowed that he would look into the matter and investigate what really happened.