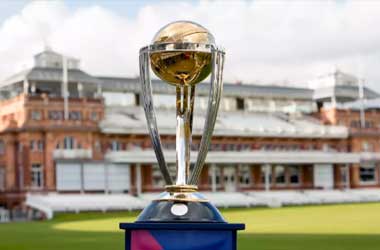 It's been a long road to the finals for England and New Zealand in this year's world cup.
The day of the grand finals will mark, exactly 45 days which have passed since the opening match between England and South Africa and what a journey it has been.
The 2019 ICC World Cup had it all. From world records being broken to upset wins, dreams shattering while others being born and countless other moments that will make ICC 2019 one of the most memorable World Cup tournaments in the history of the sport.
But it's not over yet, with the best part being left for last.
The final cherry on the top and the one last hoorah for England and New Zealand, who will both be chasing their first-ever ICC World Cup title will happen on July 14th at the only ground worth of holding a match of such magnitude. The Lord's.
Best Cricket Place To Be On The ICC CWC Final 2019
Before we get to the two remaining teams, let's take one last look at the tournament as a whole.
Featuring elite teams filled with world's best players, the 2019 ICC World Cup was expected to provide us, the fans, with some incredible matches and to be fair it did not fail to do so. However, it does not stop there, as we also had a chance to witness history with several new world records being set throughout the 2 months of cricket action.
As far as team records go, Australia and Bangladesh set a new world record on June 20th, when the two sides finished a match with a score of 381-5 v 338-8 which is now known as the highest match aggregate in history of the ICC World Cup. Bangladesh was also involved in a match, which is now known as the 2nd highest run chase match in the history of the world cup. The mentioned match took place on June 17th, when Bangladesh defeated West Indies by 5 wickets.
There was also no shortage of individual world records. Glenn Maxwell cemented himself as the player with the highest strike rate (169.25) in the world. Indian vice-captain Rohit Sharma became the first batsman to score 5 centuries in the same World Cup on July 6th against Sri Lanka and also tied Sachin Tendulkar's record for the most centuries in a World Cup.
Vice-captain of Bangladesh Shakib Al Hasan became the first cricketer to score a fifty in the first match in each World Cup since 2007 on top of becoming the first batsman for Bangladesh to score 1000 runs in a World Cup and setting a new world record by scoring 500 runs and taking 10 wickets in a single tournament on July 2nd. Last but not least, Eoin Morgan reached record-breaking 17 sixes in an ODI on June 18th against Afghanistan.
Will we see yet another world record in the finals is anyone's guess but while we are left guessing if it will happen or not, we can at least rest assured that the 2019 ICC World Cup will be finals no cricket fan should miss.
England
Hosting the ICC World Cup for the 5th time in history and for the first time in 20 long years, England are on the verge of a historic achievement, which was seemingly out of their reach for over two decades. As a team, England appeared in the finals 3 times in their history (1979, 1987 and 1992), however, they always failed short of lifting the trophy. The closest they have ever got to winning the most prestigious trophy in the cricket world was in 1987, when the English team lost to their arch-rivals Australia by 7 runs. That also marked the last year England ever reached the finals, let alone semi-finals. However, everything has changed in 2019.
In the most recent instalment of World Cup, only 4 years ago, England failed to escape the group stage, however, now, they are in the grand finals for the first time in 20 years. And deservingly so. The team had their fair share of ups and downs throughout the tournament, but overall they were nothing short of exceptional. The defeats against Sri Lanka and Australia on June 21st and 25th will surely not be forgotten, however, the same can be said for their exceptional performances in the next 3 matches which earned them a spot in the finals. Not only has England defeated India by 31 runs, but they also humiliated the 5 times world champions Australia, who stood no chance against England in the semi-finals.
Will the momentum catapult England past New Zealand is something we will have wait and see, and while we will never know for sure before it happens, England will do their best to repeat their incredible performance against New Zealand on July 3rd, when the hosts won by 119 runs.
Odds To Win: 5/2
One To Watch: Jason Roy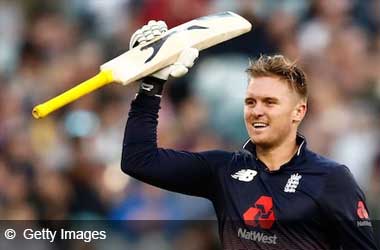 We have talked about Jason Roy before and we will talk about him again despite the fact there is not a lot to be said what has not been already said about him.
To say he is good would be an understatement. He is arguably the key factor that contributed to England's dominance this world Cup and could possibly be one of the big reasons why England will lift their first-ever ICC World Cup on Sunday.
Not only is he a player who single-handedly helped his team earn a playoff spot, but he was also exceptional in the semi-finals against Australia. While he did not get to a 100, he still produces a lot of points especially for a match, which was not a particularly high scoring one.
As a very consistent player and an extremely dangerous one for the opposition, I once again expect Roy to step up for England and help them win the final match of the World Cup.
New Zealand
What a year, what a performance for New Zealand it has been. As a team who did not enter the world cup with high expectations, they performed up to par and earned themselves a spot in ICC World Cup for the 2nd year in a row, hoping to improve upon their performance last year and lift their first-ever trophy in the history of the competition.
As a team who had to watch their neighbours take all the glory in last two decades, now it's finally time for New Zealand to shine, and while the expectations are there, the "Black Caps" know it won't be an easy task defeating England on their home soil.
Looking back at their group stage performance, New Zealand just barely got through into the playoffs. Seeing how New Zealand struggled in the final matches of the group stage came off as a shock for everyone, as they were playing very well throughout the tournament. The Black Caps' World Cup campaign started off with a streak of 5 consecutive wins, which came to a halt on June 26th, when they suffered a humiliating defeat against Pakistan, followed by two more defeats against Australia and England. That put New Zealand in an unenviable position as they found themselves at the verge of 4th place finish. Nonetheless, Pakistan failed to catch up to them in NNR, meaning New Zealand got a pass into the playoffs.
The semi-finals was where New Zealand was expected to exit the tournament, as they had to face off against India, who were considered to be a strong candidate to win their 3rd world cup title. Despite all the odds stacked against them, New Zealand delivered when it mattered. They were truly on top of the match and with the help of their bowlers defeated India for the 2nd time in the 2019 World Cup. With one of the best performances from New Zealand behind us, the Black Caps are now getting ready for the hardest, yet final test which awaits them at Lords' on Sunday and its name is England.
Odds To Win: 1/3
One To Watch: Matt Henry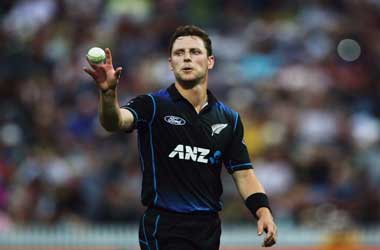 The 27-year-old bowler has played a crucial role in New Zealand's success throughout the world cup and most importantly their win over India on Tuesday.
His performance against the favourites India earned him an MVP award and should he once again produce something similar on Sunday, he will be a huge thorn in England's side.
It's worth noting Matt Henry alongside Trent Boult reduced India's captain Virat Kohli and Rohit Sharma (the tournament leading scorer) to only 5/3 in 3.1 overs, inflicting the two-time world champions with a huge blow, from which the Indian team did not manage to recover.
Our Predication
July 14th 2019 will mark a historic day for one of the two finalists. Both have proven their worth and deservingly got themselves into the finals of ICC World Cup, however, now it's time to find out which of the two deserves to be called "the best in the world".
Both teams have performed well throughout the tournament, each with their own hiccups. England lost to Pakistan at the start of June, followed by two disastrous defeats against Sri Lanka and Australia, while New Zealand almost lost their playoffs spot with 3 consecutive defeats to close out the group stage. Nonetheless, both teams managed to step up to the occasion and performed up to par in the semi-finals. The Black Caps took down two-time world champions India, while England inflicted a deadly blow to Australia, preventing them from reaching the finals for the 7th time in their history.
While both have an incredible story of their road to the finals, for one team the story will end on July 14th.
Putting the two teams side by side, there is little to suggest that England will lose their 4th finals. They have been just exceptional this year and while there is no denying New Zealand performed admirably well on their road to the Lord's as well, the difference in quality is rather obvious.
Despite the fact that the superior quality of England should be enough for them to come out as champions, the finals will also be played in London, giving England that little extra boost, which makes us believe the 2019 finals will be their finals to lose.
Expect England to win their first-ever ICC World Cup on Sunday with William Hill.