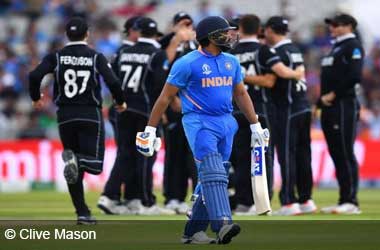 India were not only expected to beat New Zealand in the first semi-final of the 2019 ICC World Cup but they were also expected to go on and win World Cup.
India had lost just once leading up to the semi-finals and were facing the Kiwis who were considered the weakest team out of all four semi-finalists – the other two being England and Australia.
India ended up losing by 18 runs in a high pressured match that saw the Kiwis make it to the second consecutive World Cup final.
While there were a number of reasons why India failed to win, one factor that must not be overlooked is the English weather.
The first semi-final was played on 9th July but could not be completed due to bad weather. New Zealand were in trouble after opting to bat first as they found scoring difficult and had only managed to get to 200 in the 45th over.
IndianExpressOnline
India had the momentum with them and would have loved to have finished the game but everything came to a stop due to rain. When they came back the next day, the momentum they had was gone and they were faced with the challenge of chasing down a modest total with a two paced pitch in a high pressured game.
Middle Order Holes Exposed
India have relied heavily on their top three batsmen to get them off to a good start. That did not happen in the semi-final as they lost their top three batsmen for a combined total of 3 runs. New Zealand had the upper hand and not once did they let India take the momentum away from them, even though Ravindra Jadeja played a great innings.
When your top three batsmen fail, you need numbers 4, 5 and 6 to deliver. The problem is India's middle-order has been their biggest weakness for the last two years and it turned out to be the difference in the end. While New Zealand should be given a lot of credit for their fighting spirit and ability to stay calm under pressure, India know that it was a semi-final they should have won.
Indian captain Virat Kohli during his post-match interview said it was 45 minutes of bad play that ended up being the deciding factor in India exiting the World Cup. Kohli thanked more than a billion Indian fans who have supported the team throughout the tournament and apologized for letting them down.