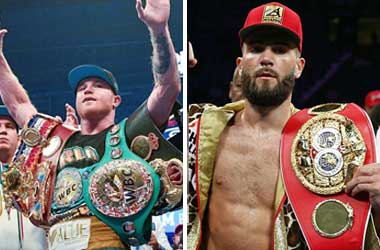 The boxing world will come together on November 6 as the great Canelo Álvarez returns to the squared circle for the third time this year. Everyone loves a big-time boxing showdown and that's precisely what we're going to get when Alvarez comes face to face with a man who desperately wants to knock him off of his perch – Caleb Plant.
These two enemies will collide in a blockbuster match-up that will help to promote the theory of boxing still being a sport that can draw in the big crowds and viewers when it matters the most. It'll take place at the MGM Grand Garden Arena in Las Vegas, Nevada – marking the first time Canelo has fought in Sin City since late 2019. Plant, on the other hand, also competed in Vegas in 2019.
The pundits all think they know precisely how this one is going to go based on what history has told us but when it comes to combat sports, it's always better to expect the unexpected.
Best Betting Sites To Bet On The "Road to Undisputed" Bout
The journey to fight night
One element of this grudge match that's been different to the others for Canelo is just how personal it seems to have gotten. Bettors in Mexico and the rest of the world are used to seeing their star be cool, calm and collected, but when he met Plant in a press conference last month, things got physical in a hurry.
Plant was the one who instigated the madness but Alvarez wasn't about to go down without a fight, leading to a brawl that – while ugly – certainly helped to draw eyes to this rivalry.
When Canelo Álvarez last fought in Las Vegas, he was forced to sit back in his dressing room and wait to take on Sergey Kovalev in the main event. The reason for that was because the TV broadcasters wanted to wait for UFC 244, which was happening at Madison Square Garden in New York City, to conclude their main event – somewhat "getting rid" of the competition.
It was a fairly embarrassing moment for the sport of boxing and the same thing could happen on November 6. That's because UFC 268 will also be emanating from the world's most famous arena, although we wouldn't be surprised to see the events being scheduled to occur at different times during the evening.
Motivedia – Boxing
Things to Watch For
The big "story" heading into this, though, remains that the winner will become the first undisputed super middleweight champion in boxing history. That's because Canelo is putting his WBA (Super), WBC, WBO, and The Ring super middleweight titles on the line with Plant putting up the IBF super-middleweight title in response.
* Odds have been provided by BetOnline and are accurate as of
Canelo Álvarez (56-1-2)
Current Odds: -1000
Canelo Álvarez is quite simply one of the most decorated boxers of his generation and he's also one of the scariest. He's had his fair share of critics over the years, as you'd expect with someone of his stature, but he's always stuck to his guns with a smile on his face and a Terminator attitude that has seen him secure 38 knockouts in his career. You can dread it, run from it, but as they say, destiny arrives all the same.
Five of the last 11 opponents Canelo has faced have been British and so was his last outing when he forced a retirement out of Billy Joe Saunders. It happened a little over two months after he soundly beat Avni Yıldırım, following through on the idea that he wants to be even more active in this next phase of his career.
Caleb Plant (21-0)
Current Odds: +600
Caleb Plant knows that he's walking into this fight as the ultimate underdog which is the case for just about everyone who has crossed paths with Canelo Álvarez in recent times. Still, the bravado and confidence he has in himself have riled up his foe in an obvious way – which is either the smartest move he possibly could've made or the ultimate mistake.
Plant has nice TKO wins over Vincent Feigenbutz and Mike Lee to his name but his first "headline" spot of note took place at the start of this year. He went up against Caleb Truax and outboxed him in a very professional manner from distance, never really giving him time to settle or get into a rhythm.
Prediction
The key thing to remember here is that no matter what kind of style you fight with, the likelihood is that Canelo Álvarez is going to land on you – and he's going to land hard. His last outright knockout came two years ago but at super middleweight, the problem always seems to be the manner in which he blends his speed and power together. It's almost as if people get stuck in quicksand when they're around him and can't find a way out, which is always a struggle when you take Canelo's unbelievable head movement into consideration.
Caleb Plant may be tempted into a firefight with Alvarez and we can understand why, because it's so difficult to get a decision against him – and if you don't believe us, go and ask Gennady Golovkin who once labelled him as a drug cheat.
Alas, getting in and out is probably what Plant needs to do if he wants to secure the victory, but it's near enough impossible to picture anyone doing that with great joy.
Canelo is fired up for this one so Plant may catch him coming in with a nice shot but again, he's never been stopped, so why should we believe it's going to happen on this November night?
Our official prediction is that Canelo Álvarez will sleep Caleb plant with a seventh round KO. It'll be competitive in spells, but the end result will be the same.