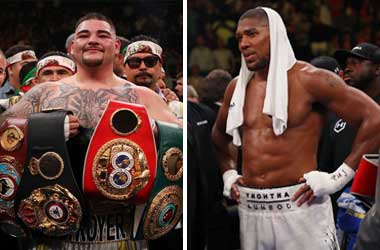 Six months have we been waiting for the day when we will see Andy Ruiz and Anthony Joshua duke it out in the ring once more, but it seemed like an eternity.
That said, the heavily anticipated "Clash On The Dunes" is just around the corner as we count down the days to December 7, 2019, when Andy Ruiz Jr. and Anthony Joshua will meet once more, this time at Diriyah Arena in Diriyah, Saudi Arabia.
Recognised by many as one of the biggest upsets in the history of boxing, the first bout between Andy Ruiz Jr. vs. Anthony Joshua ended in favour of Mexican-American heavyweight, who shook the world when he TKO-ed Anthony Joshua to emerge as the first boxer of Mexican heritage to become a world heavyweight champion and second Hispanic world heavyweight champion overall.
Best Betting Sites To Bet On The "Clash On The Dunes"
Some would say the first fight was a fluke, others seem to be confident saying Andy Ruiz Jr. is simply a better boxer compared to Anthony Joshua. Despite their differences, the two elite fighters, Tyson Fury and Deontay Wilder, both agree Andy Ruiz Jr. is capable of coming into this fight and doing it again, while there are analysts who seem to disagree with that. Which of the two camps is right is anyone's guess, but we should get our final answer next weekend when the two heavyweights clash for unified WBA, IBF, WBO and IBO heavyweight world titles.
But before we turn our attention to the upcoming fight, let's first look over what happened in the previous bout, which took place on June 1, 2019, at Madison Square Garden.
Previous fight
The first fight between Andy Ruiz Jr. and Anthony Joshua was deemed as the first steppingstone in Anthony Joshua's "conquering of America", who was originally slated to fight Jarrell Miller. Unfortunately, Miller failed a drug test, which resulted in Andy Ruiz Jr. filling in for him and many expected the fight would be nothing more than just another W for Joshua's overall record, yet things did not go as planned for the British fighter. Andy Ruiz Jr. not only put up a solid fight but produced what can easily be described as one of the biggest boxing upsets in history, which earned him WBA, IBF, WBO and IBO heavyweight world titles.
The first fight is even now, six months later, a mystery to some, however, a quick look at the numbers the fighters put up reveals, the so-called upset win was not really an upset, but rather a better performance from the Mexican fighter. Ruiz displayed all his power, speed and durability in that fight to completely outclass Joshua on the night.
Sky Sports Boxing
While the first round did end in Joshua's favour, the remaining six were the complete opposite. The most exciting round on the day was the third round when Joshua floored Ruiz with a great left hook, only to see him pick himself back up and return the favour by knocking Joshua down twice, sending him back to his corner on shaky legs.
The third round was quite possibly the round when Ruiz won the mental battle, seeing how Joshua was visibly rocked, both physically and mentally. Ruiz on the other side looked extremely confident, which showed in his dominance from the fourth round onwards. He kept his composure, approached the fight smart and threw out the final combination in round seven to floor Joshua for the third and final time, stunning the world and claiming the title of world champion.
Things to Watch For
* Odds have been provided by 888sport and are accurate as of 29/11/2019
Andy Ruiz Jr. (33-1-0)
Current Odds: 7/4
With his win against Anthony Joshua in June, Ruiz went down in history as the first Mexican boxer to become a world heavyweight champion, which also catapulted him to the top of Transnational Boxing Rankings Board.
Standing at 6 ft 2 in, Ruiz is known for his toughness, incredible hand speed and unmatched counterpunching and combination punching abilities, which he put on full display in his first bout with Joshua. Ruiz's win over Joshua was his 33rd in his decade-long career, with most of his wins won by knockouts, which is another thing Ruiz has become famous for.
Despite that, there are arguments floating around claiming Ruiz knocked down Joshua simply due to one reason – he had the element of surprise. Playing an underdog card will always be a plus, seeing how you can easily be underestimated and Ruiz took full advantage of that. Now that Joshua knows what Ruiz is capable of, he might approach this fight a bit smarter, but the question remains; did he already lose the mental battle against the Mexican-American or will he be able to overcome the thought of already being knocked down by Ruiz?
Anthony Joshua(22-1-0)
Current Odds: 4/9
Widely regarded as one of the best British fighters in history, Anthony Joshua made a name for himself in 2011, when he earned the silver medal at 2011 AIBA World Boxing Championships in the super-heavyweight division as an amateur. He later represented Great Britain at the 2012 Olympics where he won gold. There are many achievements Joshua earned throughout his career, but they are mostly overshadowed by his upset defeat against Andy Ruiz Jr. this summer.
It goes without saying, Joshua will be hungry for blood this December, yet there are some concerns whether he will be able to do it. He never looked as weak as he did against Ruiz, and there were some rumours that seem to explain why Joshua was not on top of his game that night.
As reported, Joshua had been badly dropped in sparring a week before his fight against Ruiz, however, those rumours were quickly shit down by Joshua himself. He did, however, say he did lose all his motivation ahead of the fight, claiming he had nothing to fight for:
… you lose passion when you feel it is not as real as you thought it was' and '… there was nothing for me to gain in boxing anymore
which is similar to what happened with Tyson Fury in 2016, who lost his desire to fight, after winning it all./He added Ruiz was simply lucky in their first fight, claiming:
If you put me and Ruiz into a computer, nine times out of 10, I win" and he got caught with "a lucky punch, sent from the Gods.
Were gods really involved in that fight is up to debate, but one thing is for sure, Joshua was floored and we can expect him to enter this bout determined to return the favour.
Pick and Prediction
Anthony Joshua is entering this bout as a heavy favourite to reclaim his titles, and we can be sure he has been vigorously preparing for the day when he will get a chance to do so. That said, we can not simply undermine Andy Ruiz Jr. here. He has shown real class and ability in the first fight and while some saw that fight as a complete fluke, we can't completely agree with that.
Yes, Joshua underperformed, but we can't forget he got KOd, which is something he has to deal with. At this point, we must also address the weight this KO has. In a heavyweight division, anyone can knock out anyone, yet it's the one who delivers the KO that gets a huge mental edge ahead of the next fight. No matter what the reason was which lead to Joshua losing that night, no matter what he will change and improve on ahead of the December's bout, Joshua will enter the bout as the man who got KOed in the previous fight.
Furthermore, it was not really a "lucky punch" which won Ruiz the fight. Joshua can make numerous excuses for why he lost, but one thing is for certain – he was not winning the first fight against Ruiz. He may have won the first round, but as far as the remaining six are concerned, Ruiz was the better fighter and there is no reason to believe anything will change in this bout. Joshua might be priced as a heavy favourite, but all things considered, we trust Ruiz to finish what he started in New York and defeat Joshua for the second time.
Prediction: Andy Ruiz Jr. to win again