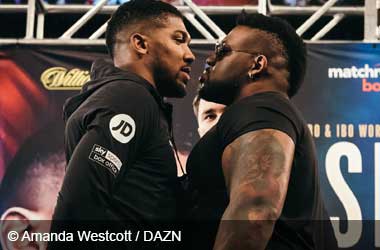 When you get a title fight against Brit Anthony Joshua it is usually a 'red panty' night as Conor McGregor once said! For those who don't know what that means, it is a guaranteed huge payday for Joshua's opponent.
Jarrell "Big Baby" Miller was scheduled to fight the IBF,WBO and WBA heavyweight title holder on June 1 in Madison Square Garden. The two fighters have done media to promote the fight and there appeared to be a lot of animosity on Miller's side.
However, the fight isn't going to happen as the New York State Athletic Commission cancelled Miller's license application.
The reason for the cancellation stems from the fact that Miller failed a Voluntary Anti-Doping Association (VADA) drug test which was carried on out March 20. Miller tested positive for what VADA called banned substance 'GW1516' and will be suspended for a 12 month period.
While this is the first time that Miller has tested positive for a banned substance in boxing, this isn't the first time that he has failed a drug test. When he was competing under the GLORY kickboxing banner, he failed a drug test and received a nine month ban!
Sky Sports Boxing
Eddie Hearn Trying To Find A New Opponent
When there is a sudden fight cancellation, it always becomes difficult to find a new opponent. Anthony Joshua's manager Eddie Heard has just a few days to see if he can find a suitable opponent who will be willing to step up and give Joshua his first fight in the United States.
There isn't a shortage of boxers who are willing to step up and grab the opportunity to fight Anthony Joshua. Reports suggest that there are as many as 16 boxers who have thrown their name into the hat and Anthony Joshua is open to fighting anyone. It will be up to Hearn to make the final decision as it is important for the opponent to be good enough to pose a tough challenge to Joshua and give boxing fans a fight to look forward to.
Hearn wants Luis Ortiz to step up and fight Anthony Joshua as the two were reported to fight in the past but Ortiz failed a drug test and lost his chance to have a crack at Joshua. While Hearn is eager to make the fight happen, he isn't confident that Ortiz's team will have him ready for June 1. We will have to wait for a few more days to find out who steps up to face Anthony Joshua at MSG!