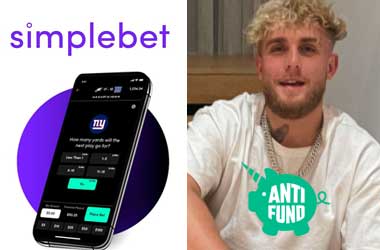 Jake Paul is best known as a YouTuber but has also branched out to become a professional boxer and now an angel investor. The 24 year old is in the sports news right now as he is scheduled to fight former UFC Welterweight champ Tyron Woodley on August 29 in his hometown of Cleveland, Ohio.
Jake Paul is also making news in the sports betting market as his Anti Fund investment fund has decided to invest in Simplebet Inc. Paul's Anti Fund is interesting because it uses AngelList's Rolling Funds service to raise cash. This is contributed by investors and fans through subscriptions.
The fund has already made a number of small investments in the past and the investment into Simplebet will be the biggest investment it has made so far. Paul has told his fans that his investment into Simplebet is to encourage more fans to try out micro-betting.
Simplebet is a company that allows bettors to place wagers on individual moments during sports events. Unlike normal sports betting, bettors don't need to wait for the game to finish knowing whether they won. The company is currently on a funding round and it hopes to get around $30 million.
There are already some early takers. Paul's Anti Fund and former UFC executive Nakisa Bidarian are leading the funding initiative. After this round of funding, the capital for Simplebet has now hit $80 million. Simplebet has already carried out previous funding rounds and have been quite successful in raising quite a bit of money.
Simplebet has received investments from a number of high profile names which included Starbucks Corp., gaming operator Aristocrat and tennis legend Andre Agassi. The company recently brought former MGM Resorts International head Jim Murren on to its board of directors. The basic plan of the company is to use all the earned capital to encourage micro-betting.
Simplebet has already been successful in offering its betting products for the NBA, MLB, NFL and college football. Expanding into other professional leagues is their next goal so that bettors can place wagers on golf, tennis, and other sports.
Simplebet Expansion Plans
Simplebet has also made some solid moves in expanding its business. The company recently signed a multi-year deal with DraftKings Inc. The plan is to get DraftKings to integrate Simplebet products in its sportsbook operations. This is a big move as it significantly increases its exposure for the company.
Simplebet also has plans to integrate its technology for non-gambling businesses.