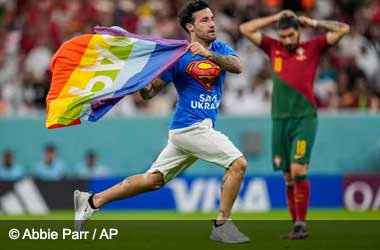 Summary
Italian fan Mario Ferri ran across the field with a rainbow colored flag during the Portugal vs. Uruguay game
He was immediately arrested as Qatar did not want the rainbow flag to be displayed
FIFA President is alleged to have secured his immediate release
Portugal booked themselves a spot in the World Cup round of 16 after they beat Uruguay 2-0.
While it was a fantastic game of football, what got fans talking was when a fan jumped the barriers, got past security and ran on to the pitch interrupting the game.
Fan Gets Arrested For Protesting With Rainbow Flag
A fan carrying a rainbow colored flag ran across the pitch for quite some time in a blue shirt which had two slogans on the front and back. The front slogan read 'SAVE UKRAINE' while the slogan at the back said 'RESPECT FOR IRANIAN WOMAN'
Security forces wrestled the fan to the ground who then left the rainbow colored flag on the ground and was cheered on by many fans. Italian fan Mario Ferri later came out on social media and identified himself as the fan who was responsible for interrupting the game.
Ferri has a reputation of interrupting football matches in similar fashion to protest against issues he is passionate about. Ferri said he flew to Ukraine in Feb 2022 to volunteer and help his friends after Russia invaded Ukraine. He also said that he needed to support Iranian women who were being persecuted over their headscarf and the LGBTQ community after FIFA and Qatar did not allow team captains to wear the "ONE LOVE" armband.
FIFA President Secures Immediate Release
There were many fans wondering what consequences a protester would be hit with in Qatar and many assumed that the penalties would be severe. However, Ferri claims that he was released within one hour of his arrest based on request from FIFA President Gianni Infantino.
Ferri claims the only punishment dished out to him was an immediate ban that prevents him from attending any more games at the 2022 FIFA World Cup. Ferri said that he was treated very well during his one hour detention. Ferri also ran onto the field during World Cup games in South African during 2010 and in Brazil during 2014. He claims that even though he is banned from future games in Qatar, he still has something up his sleeve.