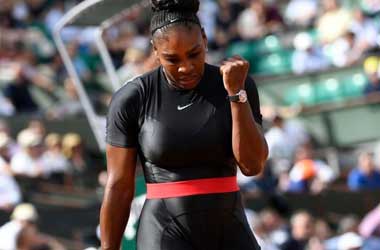 The fact that Serena Williams has won her first round at the 2018 French Open Championships at Roland Garros should not be making headlines considering Williams has won 23 Grand Slam titles and is one of the great female players to have ever played the game.
However, Williams is making headlines because she is returning to her first Grand Slam tournament after a 16 month break. Williams who was at the top of her game had to take a break to give birth to her first child Olympia and returned to Roland Garros unseeded which caused a lot of controversy as many felt that Williams should have received an exception due to her past performances at Roland Garros and be seeded.
Williams came out firing against Kristyna Pliskova who is ranked 70 and won convincingly 7-6 (4), 6-4. The 36 year old America pro looked fit in a black body suit and sent down 13 aces and broke Pliskova's serve thrice.
Pliskova did put up a fight though and sent down more aces than Williams. She fired 15 aces but that wasn't good enough to keep Serena Williams from getting the better of her. Williams was happy that she had a good first match and is looking forward to establishing herself and taking back her crown as the best female tennis player in the world.
Roland Garros
Williams Confident Of Handling Dual Role
There are many who felt that Williams will struggle to reach the top once again as she went through a tough pregnancy and it took a lot out of her. Williams does not have any of these doubts and is confident that she can handle the role of being a hands on mom and also a full time tennis pro.
Ina statement, Williams said
I don't want her to ever feel like I'm not around. I'm a super hands-on mom. Maybe too much. I'm definitely here to compete and do the best that I can do, obviously. I'm not putting any pressure on myself as I normally do
Her sister Venus Williams who entered Roland Garros as the number 9th seed was eliminated in the first round by Wang Qiang 6-4, 7-5.
Maria Sharapova who may face Serena in the last 16 if both should get that far, had a tough first round Richèl Hogenkamp and took three sets to beat her 6-1, 4-6, 6-3. Sharapova will now play Donna Vekić in round two and will want to win convincingly and gain more confidence.