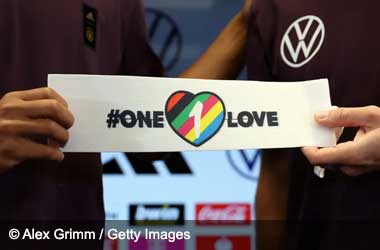 Summary
Multiple European nations wanted to wear a rainbow armband at the World Cup
FIFA threatened to ban countries from participating in the World Cup over rainbow armband
Countries drop plans to wear rainbow armband over FIFA ban threat
Multiple nations including England, Wales and Germany expressed their desire to wear rainbow colored 'One Love' armbands during the 2022 FIFA World Cup campaign that is currently underway in Qatar. The move was designed to show support to the LGBTQ+ community which did not go down well with Qatar.
Qatar is a strict Islamic country that does not permit homosexual or lesbian acts as it is illegal as per law and carries strict penalties. Qatar also made it clear to FIFA that it would not welcome any teams supporting the LGBTQ+ community by wearing the One Love armbands.
FIFA Threatens To Book Players
Even though Qatar and FIFA were not in favour of the One Love armbands, multiple captains from countries like England, Netherlands, Wales, Germany, Belgium and Denmark continued to put pressure on FIFA to give in and approve the rainbow colored armbands.
FIFA finally decided to put an end to the pressure by informing the football associations in these seven countries that they would face harsh sanctions if their players decided to wear the One Love armbands. While we are not clear what sanctions FIFA threated to impose, one rumor was that captains who wore the band would receive a yellow card before kick-off, which effectively meant that they would be towing a tight line throughout the game to not receive another, and be sent off. The threat worked as these respective football associations convinced their teams to drop the idea.
England and Wales played their opening football games without wearing the rainbow colored armbands and it looks like the idea has been scrapped for good.
No Discrimination Armband Sanctioned By FIFA
FIFA is running a special "Football Unites the World" campaign that encourages football fans and countries to forget their differences and united over their love for football. "Football Unites the World" is being endorsed by top football stars including Lionel Messi, Neymar Jr. and Cristiano Ronaldo.
FIFA has encouraged countries to wear the "No Discrimination" armband in place of the rainbow colored armband and the strategy has worked as England captain Harry Kane wore the No Discrimination armband in their opening game against Iran.
In Legitgambling.com opinion this seems to be the right decision overall as the new "No Discrimination" armband represents all forms of discrimination rather than the focus of one single group/organisation
Kane said he was disappointed he could not wear the One Love armband but said he couldn't do much as it was out of the hands of the players. Kane said he wore the No Discrimination armband as he was instructed to do so!