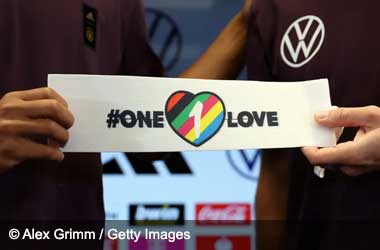 Summary
Multiple countries are pushing for their captains to wear rainbow bands
Rainbow bands will be a show of support of #ONELOVE during the World Cup
Qatar – the host nation considers same sex love as a criminal offense
The 2022 FIFA World Cup is set to take place in Qatar from 20 Nov to 18 Dec when a total of 32 countries will take part.
While all of the teams are busy practicing and preparing for the football extravaganza, there is some drama taking place on the sidelines.
Multiple countries are pushing for their captains to wear rainbow colored armbands in support of #ONELOVE. The rainbow armband is an open show of support for the homosexual community and is thought to be a statement of supporting anti-discrimination against the global homosexual community.
FIFA Under Pressure To Approve #ONELOVE armband
So far 10 countries have come forward and supported the move for their captains to wear the #ONELOVE armband. Some of the countries that have supported the initiative includes France, England, Germany and Wales with English captain Harry Kane showing his support for #ONELOVE during the UEFA nations league matches as the armband has been approved by UEFA.
The Dutch team have been strong supporters of #ONELOVE even before Euro 2020 commenced. England have already sent in a request to FIFA asking them for permission for Kane to wear the #ONELOVE armband during the 2022 World Cup in Qatar. However, FIFA is yet to respond and grant its approval to England or any of the other countries.
Qatar Considers Same Sex Love As A Criminal Act
Qatar is one of the many Islamic countries in the Middle East and has a strict stance towards homosexuals and same sex love. This is the main reason why FIFA has not easily granted approval of the #ONELOVE armband as same sex liaisons are a criminal act in Qatar.
FIFA is now under a lot of pressure to get the approval from Qatar and sanction the #ONELOVE armbands for the World Cup. Qatar signed a memorandum of understanding in 2018 with FIFA and there was no clause for any #ONELOVE armbands. If Qatar bans the use of the #ONELOVE armbands, it could create a huge controversy ahead of the 2022 World Cup.