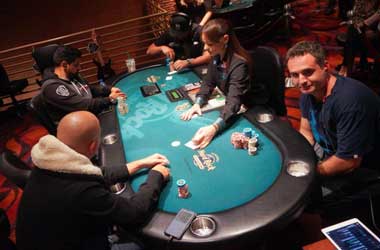 Nevada Gov. Steve Sisolak ordered the temporary closure of Las Vegas properties, including casinos and poker rooms, as part of strict measures to contain the deadly coronavirus in March 2020. With the U.S government now considering reopening the economy to get everything up and running again, the Nevada Gaming Control Board has published health and safety guidelines and policies that will help facilitate the reopening of casinos in the state.
The guidelines released by Nevada's gaming regulator states that proper social distancing must still be observed during games by limiting the number of participants playing at one table, depending on the type of game. For instance, for blackjack, only three players might be allowed to play per table, four for roulette, six for craps, and four for poker.
Casinos must also outline in their reopening plans their cleaning and disinfection measures, an essential element in preventing the spread of the virus.
Will Four-Handed Poker Work?
When the current pandemic is eventually resolved, we will have to adopt the "new normal", which could include the mandatory wearing of face masks and social distancing in public places. While some activities would easily fit in to the new norm, things would be a lot different in the world of poker. Can four-handed poker even work?
Online poker pros who are into short-handed play will likely be delighted, but the same thing can't be said about land-based players. As observed in live poker settings, short-handed poker does not sit well with a lot of players. Usually, when games get short, players start leaving and discontinue playing.
Apart from that, there's also the issue on rakes. Short-handed games normally involve bigger rake reductions since players need to play a lot more hands each hour, compared to a full table. This would be unprofitable for poker rooms and also not applicable in tournament settings as short-handed games would require more dealers to be in every table.
The guidelines also state that casinos can only operate at 50% capacity to limit the entrance of people. Large congregations in halls and lounges are also prohibited, and strict social distancing should be implemented in areas that involve queues.
Official Confirmation On Reopening Still Pending
The imposition of table limits means there won't be any full-ring or six-max poker games, and live poker tournaments cannot resume, until restrictions are relaxed.
The new guidelines released by the Nevada Gaming Control Board did not specifically state an exact date for the potential reopening of casinos. Players in Nevada will continue to wait for an official confirmation.
FOX5 Las Vegas