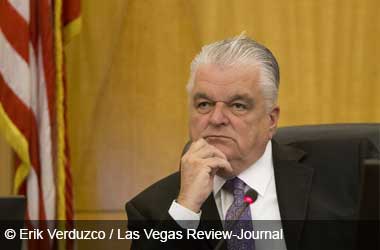 The global gambling industry as well as the sporting world is suffering from the impact of the corona virus as governments across the world have imposed stringent restrictions ranging from partial or full closure to land based casino operations.
Casino resorts attract thousands of tourists from all over the world and are a prime spot for COVID-19 to spread.
Las Vegas, Nevada has some of the biggest and most popular casinos in the world which generate billions of dollars in combined revenue for casino operators and also significant income for the state of Nevada in the form of gaming taxes.
All that will now come to a halt as the Governor of Nevada has decided to take the unprecedented step of shutting down all casinos in the state.
Month Long Freeze
Governor Steve Sisolak has ordered a freeze on all gambling activities in the state for the next 30 days. This gambling freeze will not only impact the big casinos in Las Vegas but will also hurt the bars and convenience stores that have slot machines. This is a major decision taken by Governor Sisolak as the gambling industry generates a significant chunk each month for the state budget.
8 News NOW Las Vegas
Gambling operators will be upset at the loss of revenue but they will not take it personal as all non-essential businesses including movie theaters and gyms have also been asked to close. The state's restaurants are only allowed to offer takeout or delivery. This massive shutdown is not unique to Nevada. Ten other states have called for shutdowns to stop the spread of COVID-19. However, Nevada will be hit really hard due to its dependence on the hospitality industry.
It does not help that the businesses were given less than a day to prepare for the shutdown. Although many of the casinos were prepared for a coming closure, they did not expect it to come out of the blue and with no warning. Fortunately, many of the Las Vegas casinos already closed their doors though the city still had bars and restaurants open. Reno already ordered the closure of non-essential businesses last week, though the city allowed casinos to operate.
This closure order follows President Trump's call for Americans to follow social distancing rules. These include staying at home most of the time and to avoid large gatherings and eating out.
Major Closure
The last time the casino industry in Las Vegas shut down was back in the 60s for John F. Kennedy's funeral on Nov. 25, 1963. This is the first time that all Nevada casinos have been ordered to close across the state, since gambling was legalized in 1931. Nevada already has reported more than 50 cases of COVID-19 infections and one death.