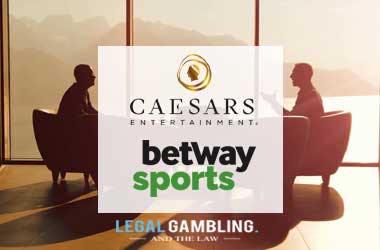 Caesars Entertainment has been known for years for operating a string of high profile land based casinos in America.
However, Caesars is changing its portfolio and looking to expand its presence in multiple markets and different gambling verticals.
Caesars recently took over William Hill, paying over $3.69 billion to complete the acquisition. It also recently clinched a deal with Sportsbetting.com to give the online sportsbook access to three new states. Now there are rumors that Caesars is in talks with Betway Sports for a market access deal.
Betway Sports has made a name for itself in the European market.
As a part of the Digital Gaming Corp., it has access to over 20 regional markets and has a strong presence in these markets. Betway has been teasing that it will be looking to enter 10 states in the America during 2021. If the rumors are true the Caesars can offer the European operator access to the following states: Indiana, Illinois, Colorado, Michigan, Iowa, New Jersey, Pennsylvania, and Nevada.
Caesars holding talks with Betway does not come as a major surprise as it continues Caesars' streak of going after sports betting deals. The earlier Sportsbetting.com deal allowed the online sportsbook to have access to the states of New Jersey, Indiana, and Iowa. Another recent deal was when Caesar took a minority stake in SuperDraft Inc, a major daily fantasy sports provider.
The deals may hint that Caesar is not satisfied with settling down after merging with William Hill and is looking for more access to become a dominate player in the sports betting market.
Sports Betting Focus
It appears that Caesars is quickly making sports betting a key focus for the company. While Caesars is mainly a land based casino operator, thanks to its long history in Las Vegas, it may be pivoting towards online gaming and sports betting.
Market analyst suggest that if Caesars successfully integrates William Hill's US operations, then the company should be able to dominate at least 10 percent of the sports betting market in America. Caesars is expected to bring in around $600 million a year from its online operations before interest, taxes, depreciation and amortization (EBITDA) by 2025. The deal with William Hill is expected to finalize in the second quarter of 2021.
Caesars has so far not provided any official information about its talks or plans with Betway Sports.