Crash Gambling – Legal Crash Gambling Casinos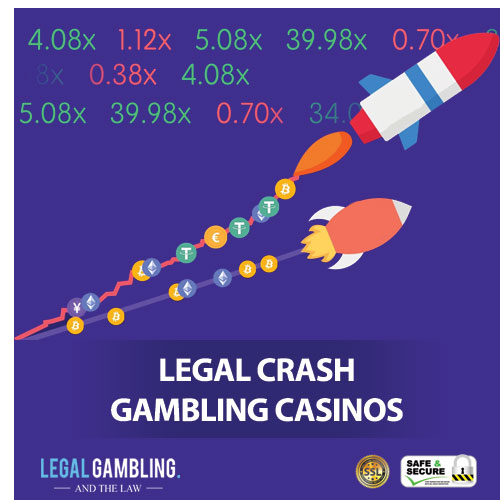 Crash betting is relatively new in the world of online gambling. Many haven't even heard of it as it's still developing. However, it's already gained a sizable following, and you could likely be another gambler who'd love to participate.
Crash gambling is straightforward and fast-paced, so it's perfect for many gamblers looking for quick action and fast wins. The best part is that you can start immediately, and it won't take you too long to get the hang of.
However, there are still a few things you should know first, and it's certainly much better to read up on the game before you get started. What's more, we've prepared a list of the best crash betting casino sites for you at the moment.
So, keep on reading to learn all there is to know about crash gambling.
Best Crash Casinos in 2023
We've done the research, so you don't have to, and found a few sites that offer the best crash gambling experience. What's more, these sites provide players with many other games, lucrative bonuses, stellar website design and user experience, enough payment methods, quality customer service and so much more.
We could never let you settle for anything but the best. So you can be sure that the sites we recommend are the very best at the moment. We'll make sure to update the list if any of the sites decline in quality and if new fantastic casinos enter the crash betting game, so make sure to check the list from time to time.
How Does Crash Betting Work?
At its core, crash betting is an online casino game, where all you need to do is place a bet and get the chance to multiply your investment until the eponymous crash occurs.
In essence, every crash game is the same. You and other players place your bets, and the game starts. The multiplier begins from 1.00x and keeps rising at a relatively fast speed. It can keep growing for a very long time, passing 2.00x, 3.00x, and even as much as 100.00x.
Your goal is to cash out before the crash occurs. When you cash out, you'll get your stake back multiplied by the current multiplier at the exact time of cashing out.
However, you need to do this before the crash occurs. That's when the game abruptly stops, and everyone who hasn't already cashed out loses their investment. This crash can happen at any point, as it's entirely random. It can occur as early as 1.20x or as late as 140.00x.
So, your goal is to predict when the best time to cash out is. Naturally, it's all about luck, as this is entirely a game of chance. But thankfully, it's entirely fair as it works according to the law of probability. In other words, you have a 50% chance to guess if the multiplier would stay below 2.00x or go above it. The same goes for any other multiplier.
However, bear in mind that the longer the round goes, the higher the chance of the crash. This is why you'll see most crash rounds ending at low multipliers.
Types of Crash Betting
The types of crash betting games depend on the currency being used. There can be other deviations like a different minimum and maximum crash point, but these changes are pretty small, so it wouldn't make sense to call the game a different type of crash game.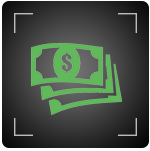 Real-Money Crash Betting
As expected, you can always play crash betting games with real money, just like any other online casino game.
Depending on the site you use and the country you come from, it could almost be any notable currency in the world, but the most common ones, by far, are the US Dollar and the Euro.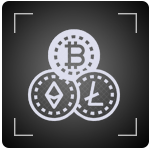 Cryptocurrency Crash Betting
Cryptocurrency has reached all corners of online gambling, so it's no wonder that you can also use it for crash games. In essence, if you decide to gamble on a site that covers crypto payment and offers crash games, then you'll definitely get the chance to play with crypto.
You'll usually get to use Bitcoin only, but some sites cover Ethereum, EOS and USDT, the other three most common cryptos used for crash betting.

CS:GO Crash Betting
Crash betting is very popular within the Counter-Strike: Global Offensive gambling community.
As stated, it's the same form of crash betting, but instead of money, you'll use items from the game. You can use:
Skins — often used as currency in many forms of online gambling
Cases — a crash betting site awards you with a case that can have skins and other items that are turned into points, credits, or tickets for gambling in crash games
Loot boxes — these are similar to cases but can also come with some bigger and rarer prizes. Also, unlike cases, the rewards are entirely random, so they can turn out to be quite bad as well.
How to Play Crash
Even though the game is straightforward, and there's not much you can do to change the outcome, there are still a few things you need to know so you can be ready to play the game in the best way you possibly can, every time you play.
Set your Base Bet

This is your starting wager that you'll play in every round of the game. Once you set it, you can let the game run with it in every round.

Use the Auto Bet if you want to

Most crash games have Auto Bet settings where you can dabble with a few things and set the game to run automatically. Since this is a game of chance where the results are entirely random, it could be beneficial to use a specific Auto Bet setting and leave the game to run like that for a while.
Game Rules in Crash Betting
The rules of this game are pretty simple, and we've explained the whole game already. All you need to do is place a bet and then cash out when you think it's the right time. As long as you cash out before the crash, you'll win your stake back multiplied by the current multiplier in the game. And that's it.
However, there are a few smaller rules you should have in mind:
In most cases, the minimum crash point for the multiplier is 1x, while the maximum is 1,000x. However, it depends on the actual crash game and the site it is on.
The minimum cash-out point is 1x, or in other words, you can cash out whenever you want. But, naturally, it's best to cash out as late as possible to win more.
The multiplier in the game works like every other multiplier. So, for instance, if it sits at 6.35x at the point of you cashing out and your stake is $10, you'll get 6.35 x $10 = $63.5.
How to Start Playing a Crash Betting Game
If you want to start playing a crash game, you're in luck because you can get started in only five to 15 minutes, depending on the site. Here's what you need to do:
Choose a crash casino from our list
Use our link to get to the official site.
Click on the "Sign Up" or "Register" button.
Follow the account registration procedure
Input your name, address, email, and every other personal detail the site needs.
Once you complete the process, verify your account according to the instructions from the casino site.
Claim the welcome bonus
If you like it by selecting it and depositing the needed amount of money. You can make a deposit through the Cashier section of the site.
Once you have the money and the bonus, choose a crash game and start playing!
Strategies for Playing Crash
There are a few different strategies you can use in crash betting. But bear in mind that none of them can make your win assured, as the game is entirely random. However, they can certainly enhance your play and make the game more interesting.
Martingale Strategy
The Martingale system is a popular strategy in several casino games, most notably in roulette. The premise is similar here — you choose a fixed rate at which you'll change your stake. Then, whenever you lose a round, you will increase the stake based on that rate, and whenever you win, you'll get back to the original stake.
You can use the Auto Bet settings for this strategy. All you need to do is set the on-win tab to a rate you want and do the same for the on-loss tab.
Anti-Martingale System
There's not much we need to say about this strategy. It's effectively the opposite of the Martingale system. In other words, you will increase the stake by a fixed rate every time you win, and then you'll go to the original stake every time you lose.
Once again, you can use the Auto Bet settings to make this system run automatically.
Automatic Cashout Strategy
This is the most straightforward strategy. It relies on the Auto Bet settings, and all you need to do here is set the auto cash out section to a specific multiplier and let the game go.
You can choose a lower setting if you're looking for many smaller wins or set a higher setting to maximize your profits but likely end up with a smaller number of wins.
Fibonacci Strategy
This strategy is based on the Fibonacci sequence of numbers. Every time you lose, you need to increase the stake based on the Fibonacci numbers.
The numbers in the sequence represent the multiplier, so in other words, every time you lose, you will multiply the stake with the sum of the following two numbers in the Fibonacci sequence. Also, every time you win, you need to go backward by two.
Frequently Asked

Questions
Is it safe to play crash games with cryptocurrency?
What happens if I get disconnected during the game?
Can I play crash gambling for free?