Current Gambling Laws In The USA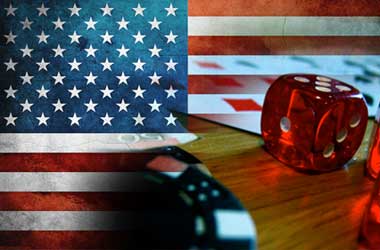 There are a few laws related to gambling in the USA.
The first is the Wire Act of 1961.
Looking at the Wire Act it was incorporated as a part of the anti-racketeering laws, as it complements the other laws such as the Travel Act, The Interstate Transportation of Wagering Paraphernalia Act and the Illegal Gambling Business Act.
Gambling Laws State Wide
The Wire Act of 1961
The act was incorporated to assist the United States and other relevant parties to enforce the laws and subdue organised activities related to gambling. The Wire Act states that any person involved in the business of betting or wagering that knowingly uses a wire transmission to facilitate such bet or wager or if any communication can be found of such proof and that the person received credit as a result of such bet or wager, they will be fined or imprisoned not longer than two years.
This has been amended in 2006; it is now only pertaining to the online gambling and acceptance of such funds in any form for eg.
Any form of credit, mostly referring to credit cards.
Any electronic funds transfer, or funds transmitted by a transferring company.
Any draft, cheque or instrument with monitory value
Any proceeds of a financial transaction through any financial institution.
The Federal Anti-Lottery Law
This law states that anyone who brings any lottery ticket to the United States or who knowingly deposits, or transfers, or couriers any form of ticket as a gift or lottery or any related scheme, offering prizes dependent on these or advertisement of any of these or even making such payments on behalf of someone in any of the states or knowingly accepts any form of payment for such ticket, share or interest will be fined or stand the risk of imprisonment under such title for less than two years.
Involvement of the post office under this law:
Anyone that knowingly deposits in the post any circular or postal card, letter or gift
Any lottery ticket, instrument or paper to represent a ticket
Any money order, bill, draft, or money to purchase such ticket will be prosecuted.
The Unlawful Internet Gambling Enforcement Act
This act has a huge influence on the on the online gambling practice in a whole. In 2006 it was instated that you may not receive any form payment or bets for credit to an online gambling institution. There have, however, been a few exclusions. A number of skill games, some fantasy sports bets and any existing legal intrastate gaming markets.
This makes it very hard for online gambling institutions to do business with the USA.
The UIGEA is not aimed at the players but at the companies that provide the gambling equipment. As this law is to protect the country against organised crime and to stop money laundering through gambling.
Professional and Amateur Sports Protection Act
The PASPA Act works in conjunction with the Wire Act. The purpose of this law is to ban any form of online betting on sports through online channels. Thus, it is illegal to place bets on major sporting events such as baseball, or american football etc. Some sports excluded from this law is horse racing, dog racing and pari-mutuel.
Any offshore online sports betting is still allowed under this law. Although it has become a great concern to revise this law, it will only allow US citizens to place bets in local land casinos as the Wire Act still covers the fact that funds may not be transferred to support such activities.
Interstate Transportation of Wagering Paraphernalia Act
Under the Interstate Transportation of Wagering Paraphernalia Act you are prohibited to transport any record, paraphernalia (things or equipment), paper, bill, writing or device that may be used to book or wager pools with regards to sports betting.
Together with the Wire Act, it is impossible to send anything via the Internet or in the mail to make any sports bets. With all the current technology, you might get away with this soon as more historical wording has been used in this law and new technology might not be covered under this law, however, it will be up to the state to decide.
Illegal Gambling Act
As this law is to protect the country against organized crime and to stop money laundering through gambling, any person in violation of this law that has five or more people in the operation, that exceeds a time period of 30 days and that retrieves more than $2000 per day will be found guilty of violating this law.
It might not be applicable to the gambler itself, but an employee or owner of a casino will surely be classified under this law and will be prosecuted. This law is still a bit grey in a few areas and can be adjusted according to the government and how they see fit.
State laws
As there are so many states in America and each state has the right to determine their own laws, it makes it difficult to determine when Acts have been violated. The federal laws do not replace or take higher preference, however, when a violation occurs, it will be looked at under their own state law and if it is legal according to the state.
Each state has the authority to decide if they are allowed to engage in online gambling or not. Some only have certain gambling games that are allowed. Thus, there has been put a method in place to determine in which states it is a violation and which state it is not. The Dominant Factor Test is the test that is used to determine the violation. Some games that are played are by chance and some are by skill. This is how this test is performed. If the gambling game is a game of chance it is most likely that the law will be violated, however, if it is a game of skill, this does not fall under the violation of the gambling act.