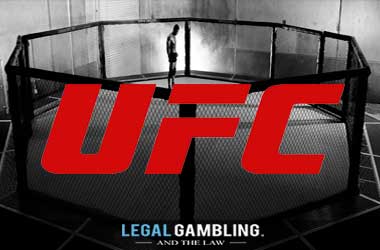 UFC 264 is set to take place next weekend on July 10 at T-Mobile Arena in Las Vegas, Nevada.
It will mark the first time in well over a year that a UFC event in Vegas has hosted a full crowd as a result of the COVID-19 pandemic.
The main card is set to be headlined by an enticing trilogy showdown between Dustin Poirier and Conor McGregor as the two lightweight rivals attempt to finally settle their score. As well as that we've got a huge welterweight eliminator between Gilbert Burns and Stephen Thompson, the return of Greg Hardy, another showcase for Sean O'Malley and so much more.
So buckle up, because UFC 264 is almost upon us – and we're expecting fireworks.
Best Sports Sites To Bet On UFC 264
AXIOM COMBAT
Last fight – UFC 257: Poirier vs McGregor 2
Just six months ago on Fight Island, with the world still in the grips of the pandemic, Conor McGregor and Dustin Poirier met for the second time – years on from their first encounter at featherweight.
Alas, while the Irishman got the upper hand at 145 pounds, it was "The Diamond" who made the right adjustments in the rematch with his calf kicks winning the day alongside some really precise boxing.
Main Event Breakdown: McGregor vs Poirier 3
* Odds have been provided by Intertops and are accurate of July 01, 2021
Ever since the dust settled on UFC 257, all signs have been pointing towards the trilogy – and that's where we've wound up. Poirier and McGregor both know that the winner of this contest is likely to receive a shot at Charles Oliveira and the UFC lightweight title but at this exact moment, it really doesn't matter. What does matter, though, is the pride and bragging rights associated with this fight.
Dustin Poirier (27 – 6 – 0)
Odds to win: -125
For years now Dustin Poirier hasn't gone out and trashed all of his opponents because instead, he's decided to let his work inside the octagon do the talking.
There have been plenty of setbacks in this man's career but instead of letting it chop him down to size, he's instead opted to grow and learn from his mistakes, getting him back to within touching distance of a title shot in the process.
Conor McGregor (22 – 5 – 0)
Odds to win: -105
Conor's big win over Donald Cerrone feels like a lifetime ago and with so many questions being raised regarding what he can bring to the sport in the modern era, it'll be fascinating to see how he reacts to this contest which he had previously called off.
"The Notorious" has big power and we're all well aware of that but in order to get his hand raised, he needs to get back to his old, more fluid style of fighting.
Prediction: Conor McGregor wins via first-round TKO
The longer this fight goes, the better it is for Dustin Poirier. Of course, that kind of logic isn't always necessarily going to apply, and we think this is going to be one of the most intriguing yet tense first rounds of action we've seen in a long time.
Ultimately, though, it's very difficult to imagine a scenario in which McGregor hasn't improved, and we believe the roar of the crowd will push him towards a quick finish over a less-than-motivated Poirier.
Well, that and his undeniable accuracy and power.
Preview Of Other Main Events
Gilbert Burns (19 – 4 – 0) : +130
Stephen Thompson (16 – 4 – 1): -165
The welterweight division is easily one of the most exciting in all of mixed martial arts and in the UFC specifically, that's definitely the case. Kamaru Usman is currently sitting at the head of the table and even though many believe he's the pound for pound best in the UFC, that isn't going to stop the rest of the 170-pounders from going after the gold.
In the co-main event of UFC 264, Gilbert Burns and Stephen Thompson will meet in a really interesting clash of styles. Thompson is known as the karate kid whereas Burns is incredibly well-rounded courtesy of his ground game and improved striking.
Gilbert Burns, The man, the myth, the legend hasn't competed inside the cage since he was finished by the aforementioned Usman in their recent title fight. Ever since then many have been wondering what he's going to do next, and we finally have our answer – he's going to keep testing himself against the very best on the planet.
Burns doesn't always get his hand raised and he's not the most conventional of fighters, but he's still very dangerous and should be listed as a credible threat to the strap.
In the space of just two impressive victories, Stephen "Wonderboy" Thompson has vaulted himself right back into contention in the land of the welterweights. Sure, he's probably one of the nicest guys in the entire organisation, but his fighting ability is the reason why so many folks have fallen in love with him.
Thompson can completely neutralise the style of just about anyone and Gilbert needs to be aware of that.
If he's at his very best, there are very few that can realistically hope to stop him.
Prediction: Gilbert Burns wins via second-round TKO
We're not entirely sure what it is that's drawing us to this prediction, but here goes: we think Gilbert Burns is going to win the fight.
He has a real chip on his shoulder in the wake of the Usman loss and we've already seen Thompson struggle against strikers with legitimate power. Gilbert can work with any level of intensity required but for "Wonderboy", he has to have the fight play out precisely how he wants it to if he's going to secure the win.
We do expect Thompson to get the better of the early exchanges but once Burns gets into a rhythm and feels himself, it'll be curtains for the veteran.