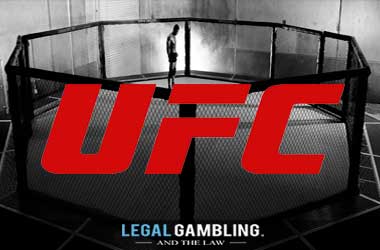 The UFC is set to return to pay-per-view action on June 12 with an electric UFC 263 card. The event will take place at Gila River Arena in Glendale, Arizona with a full capacity of fans as the United States continues its recovery from the COVID-19 pandemic.
The event is believed to be sold out and it's not exactly hard to see why with the Ultimate Fighting Championship bringing two title bouts and a huge grudge match to the desert.
The men's middleweight & flyweight belts will be on the line with this show also marking the return of Nate Diaz as he prepares to battle Leon Edwards in what could well be a five-round war.
The current expectation is for there to be 14 fights on the card from beginning to end and with that being said, it's time to dive into the main action.
Best Sports Sites To Bet On UFC 263
AXIOM COMBAT
Last fight – UFC on FOX 29: Adesanya vs. Vettori
To this day Marvin Vettori still believes that he was the rightful winner of their first meeting in April 2018 which, ironically, took place in the exact same arena as the venue for UFC 263.
Vettori definitely pushed Israel through his strength and overall wrestling ability but a stronger game on the feet for Adesanya saw him just about edge through with the narrowest of narrow split decision wins.
Main Event Breakdown: Middleweight Championship
* Odds have been provided by BetOnline and are accurate of June 04, 2021
Israel Adesanya (C) (20-1)
Odds to win: -235
There's a decent argument to be made that Israel Adesanya isn't far off of being known as the second best UFC middleweight of all time – with some suggesting he already is. "The Last Stylebender" has already seen off every 185-pounder that's come his way but after his defeat to Jan Blachowicz at light heavyweight has given confirmation to the rest of the division that he's not invincible.
Adesanya is a master of the dark arts and knows how to turn a fight completely on its head in the blink of an eye. It doesn't always happen, but creating magic in a similar way to Anderson Silva is always a good way to get the fans on board.
Marvin Vettori (17-4-1)
Odds to win: +200
For years now Marvin Vettori has had a chip on his shoulder and nobody seems to know why apart from him. Still, that forward-thinking mentality has done him wonders inside the octagon, to the point whereby he's arrived at a title shot. Some have questioned whether or not he's ready for such a big opportunity, but "The Italian Dream" isn't afraid to put it all on the line in pursuit of glory.
Vettori's gas tank is pretty good for a man of his size and so is his chin, but Adesanya's timing is always going to cause problems. With that being said, Marv appears to be feeling himself in a striking battle these days and that could create some interesting scenarios.
Prediction: Marvin Vettori via fourth round TKO
It may sound outlandish but we've just got a feeling that Vettori is going to show up when it matters the most here. We're expecting a dominant wrestling performance that sees him take Adesanya down in open space as opposed to against the fence, which is where the champion is most comfortable. Then, through vicious ground and pound, he'll secure the finish and the title in the championship rounds.
Preview Of Other Main Events
Deiveson Figueiredo (C)(20-1-1) : -235
Brandon Moreno (18-5-2): +200
As he'd already done three times before in 2020, Deiveson Figueiredo was walking his opponent down and landing bombs. In December 2018, though, they didn't fold, leading to five rounds of scintillating chaos.
Moreno almost got the finish, Figueiredo almost got the finish, and a groin strike actually wound up turning this into a majority draw. If that doesn't set the stage perfectly for the sequel, we're not sure what does.
Title Fight 2: Flyweight Championship
The rise of Figueiredo has been pretty remarkable to watch over the course of the last few years, to the point where he's starting to look like the scariest flyweight in UFC history – which is saying something given the reputation of Mighty Mouse and Triple C. He can finish a fight from just about anywhere and remains a problem from the first minute until the very last.
Figueiredo cuts a lot of weight to get down to the championship level but even with that being true, he has a second wind late in the fight that adds a whole new dynamic to the style he has. It's exhilarating, and that's why so many are starting to recognise his greatness.
Heart and spirit are two key components required for any fighter to thrive at the highest level of this game, and as it turns out, Brandon Moreno has a whole lot of that going for him. He's really starting to give us all a glimpse into what he can do within his striking and regardless of whether he wins the belt or not, he has one hell of a future at the top of the division.
Moreno wants to get things to the ground if he possibly can but we also think he's had so many decisions in the UFC that he'll be eager to get back to any kind of finish. The Royval win was nice, but at this stage in his career it feels as if Brandon is focusing more than he ever has done before.
Prediction: Deiveson Figueiredo via first round TKO
There's just something about the way Deiveson Figueiredo keeps marching forward that leads us to believe he has a whole other gear he can try and get to if he wants to. He's an animal inside that cage and while Moreno has an unbelievable chin, we're expecting the kind of flurry that no man can withstand – cementing the current champion as the undisputed king at flyweight.