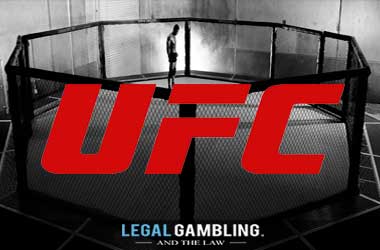 We bring you a free betting preview and best bets for three UFC title fights at UFC 261, headlined by a UFC Welterweight Championship rematch between Kamaru Usman and Jorge Masvidal.
For the first time in a very long time, UFC returns in front of a live audience at the VyStar Veterans Memorial Arena, Jacksonville, Florida, for UFC 261. To no one's surprise, the venue sold out in record time, with fans spearing no change to enjoy the energy and atmosphere only UFC can produce.
With 15,000 fans expected to attend the event, the UFC 261 will mark the first time since UFC 248 that a full-capacity crowd will be available.
The impressive attendance, however, shouldn't shock anyone seeing how the upcoming event will host three title fights, including a UFC Women's Strawweight Championship fight between Zhang Weili and Rose Namajunas, a UFC Women's Flyweight Championship bout featuring the current champion Valentina Shevchenko and former strawweight champion Jessica Andrade.
The fight card will feature a total of 14 fights, giving us plenty of reasons to tune into UFC 261. Where there's action happening, there are also betting opportunities, some of which we will explore in today's free UFC betting preview and predictions.
Best Sports Sites To Bet On UFC 261
AXIOM COMBAT
Last fight: UFC 251: Usman vs. Masvidal
The UFC 251 was a hyped-up fight, with fans eagerly waiting for the return of Gamebred after Gilbert Burns had to pull out of the fight due to COVID-19. However, the bout proved to be very uncompetitive and largely disappointing.
Masvidal started the fight strong with a flurry of punches in early minutes, but while he continued to land on Usman, the champion held on strong. Usman then switched over his style to wrestling which tipped the fight in his favor.
Slowly Usman drained Masvidal, who has managed to land a couple of good kicks and combos, but none seemed like they affected Usman. Much of the time was spent in clinches and on the ground, which produced a rather pedestrian fight, and it didn't help Usman's case, who was previously criticized for his boring fighting style.
Regardless, Usman has proven to be the better fighter that day. He knew how to break Masvidal and work around his strengths instead of letting the American fighter set the pace. Usman used quite a simple approach to that fight – he is a wrestler, and he took full advantage of that to overpower Masvidal and defend his title.
The question is: what does Usman plan to show in the rematch, and most importantly, what does Masvidal have in store to avenge his loss from July?
Main Event Breakdown: Welterweight Championship
* Odds have been provided by BetOnline and are accurate of April 15, 2021
The Kamaru Usman vs. Jorge "Gamebred" Masvidal is a fight everyone has been waiting for, as the two clash for the UFC Welterweight title in a rematch of the UFC 251. Interestingly enough, this will mark Masvidal's first fight since July 2020, when he lost via unanimous decision
Kamaru Usman (C) (18-1-0)
Odds to win: -385
Usman, fought Burns at UFC 258 in February, so it's reasonable to see him open as a favorite for this rematch.
If you're thinking about betting against Usman for this match, it's important to consider that betting against the "Nigerian Nightmare" – since his debut in 2015 – would have earned you nothing since he has not lost a single fight since 2013.
Although he is bound to get knocked down sooner or later, we don't believe that will happen anytime soon. That said, Usman has shown a chink in his armor against Burns, who almost knocked him out in February, and while Masvidal is a better striker than Burns, he is not as good of a grappler.
Jorge Masvidal (35-14-0)
Odds to win: +320
The first thing that needs to be addressed for this fight is that this will be Masvidal's first fight since UFC 251, which is not optimal.
The only way Masvidal could come out ahead is if he can avoid takedowns; however, that's not something we can realistically expect when facing Usman.
Prediction: Kamaru Usman via a decision
Betting against Usman does not make much sense in the form he is currently in, so you either take him or avoid betting on this match. Although the betting odds on Usman aren't exactly high, taking the favorite to win via a decision offers slightly more value and is the outcome we can expect.
Preview Of Other Main Events
Title Fight 2: Women's Strawweight Championship
Weili Zhang (C)(21-1-0) : -185
Rose Namajunas (10-4-0): +160
The Weili Zhang vs. Rose Namajunas is easily one of the most anticipated women's title fights in UFC history, and if it lives up to the expectations, this could turn out to be the most exciting fight of the night. Zhang enters this fight after defending her title against Joanna Jedrzejczk in March when she won via a split decision.
As a fight featuring no.1 and no.2 in the division, it's fair to expect a tight contest. Interestingly enough, these two have never met before, albeit they have faced common opponents – both picking up a W against Jedrzejczyk and Jessica Andrade, granted Namajunas is 1-1 against the Brazilian fighter.
Besides facing similar opponents, these two also share some similarities. Both are very efficient in Brazilian Jiu-Jitsu and tend to utilize strong leg strikes to take down their opponents; however, it's fair to say Zhang is far more efficient on the ground.
Although a fight that seems even on paper, it's hard to bet against Zhang, mainly due to her durability and knockout power. Namajunas has a chance to surprise, but it's hard to deny that Zhang is currently head and shoulders above any other women in her weight class.
Prediction: Weili Zhang to win
Title Fight 3: Women's Flyweight Championship
Valentina Shevchenko (C)(19-3-0): -365
Jessica Andrade (21-8-0): +300
Valentina Shevchenko enters this fight as a massive favorite, which may seem fair, but looking closer at her past bouts, she wasn't overly impressive. That's not to say she isn't one of the best fighters in the scene, but at the offered betting odds, siding with the outsider makes more sense.
Jessica Andrade spent her entire UFC career as a Strawweight before transitioning to Flyweight in October when she won her debut against Katlyn Chookagian. What we can take from that fight and Andrade's previous bouts is that she likes to push the pace, which could prove to be a curveball for the defending champion.
Although Shevchenko is one of the greatest fighters in history, we have yet to see her get properly tested by an aggressive fighter. To put it into perspective how aggressive the Brazillian fighter is, Andrade lands 6.38 significant strikes/minute and 3.11 takedowns per 15 minutes, which are much higher stats than any of Shevchenko's previous challengers.
We don't mind seeing Shevchenko priced as a -365 favorite; however, Andrade is a much better fighter than what her betting odds might suggest. Andrade is a live dog for this match and is worth a shot at +300.
Prediction: Jessica Andrade