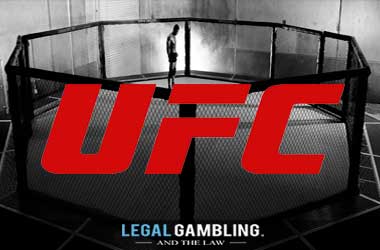 The UFC looks to please their fans once again with another event on Saturday, February 8 at the Toyota Center in Houston, Texas. The main event is headlined by a light heavyweight bout between Jon Jones and Dominick Reyes.
Heading into the preliminary fights and once the main card begins, you will get to see the co-main event showdown between Valentina Shevchenko and Katlyn Chookagian.
Both fights are going to turn heads as they have some interesting matchups at play.
Best Sports Sites To Bet On UFC 247
UFC – Ultimate Fighting Championship
Main Event Breakdown
* Odds have been provided by Bovada and are accurate of 28 January 2020
Jon Jones (24-1-0)
Odds to win: -450
"Bones" Jones has been regarded as one of the best fighters we have ever seen in the UFC. With a striking accuracy of 58% and a grappling accuracy of 47%, he can handle himself in just about every situation. His resume shows that he has won in a balanced fashion. He has 10 wins by knockout, 7 by decision, and 6 by submission.
Some other interesting key facts about Jones's success is that he has a 95% takedown defense and has a 84.5 inch reach. You could not ask for a more well rounded and dangerous fighter.
Dominick Reyes (12-0-0)
Odds to win: +325
"The Devastator" Reyes is currently on a winning streak that has been impressive. You would think that someone as athletic and aggressive as Reyes would get burned by now, but the man comes for blood when he steps into the octagon.
To his growing success, he has 6 wins by knockout, and 3 first round finishes. He has a striking accuracy of 57% and a grappling accuracy of 17%. He has a reach of 77 inches and lands about 5.05 signature strikes a minute.
Official Pick
It is hard for me to believe that anyone is going to knock off Jones. In the sports world, upsets do happen. For this case however, I think Jones is going to defend his title once again.
The reach advantage Jones has is ridiculous. If he wants to take it to the ground, I do not think Reyes will be able to fend him off successfully. Reyes also has had a poor time with his grappling accuracy. If he is not careful and does not prepare well for this fight, he might end up getting embarrassed. Jones wins by KO/TKO.
Preview Of Other Main Event
Valentina Shevchenko: -1100
Katlyn Chookagian: +650
"Bullet" Shevchenko (18-3-0) has been on a tear so far in her career. A dangerous striker, with an accuracy of 50% and a grappling accuracy of 51% respectively.
She has a well balanced combination of wins, meaning she can claim a victory in any category she pleases. She has a reach of 67 inches, which is something to be a little concerned about against taller opponents. She may look for a different angle to defeat Chookagian if she defends well.
"Blonde Fighter" Chookagian (13-2-0) has a knack for fighting the right way and earning her points. A defensive fighter, with majority of her wins coming by a decision.
She had a striking accuracy of 38% and absolutely nothing for a grappling accuracy. Her takedown defense also is lacking at 57%. She tends to want to keep the fight standing and retaliate with punches.
Official Pick
Look for Valentina Shevchenko to be the aggressor here and to have an all around fight. If this makes it to a decision, I do not see Chookagian winning in any of the categories. Shevchenko has a proven track record of winning in any way she needs to get the job done. Shevchenko wins by submission