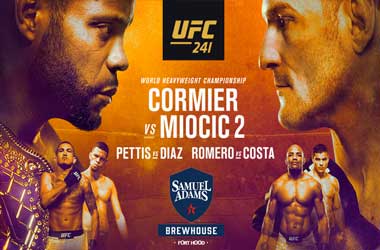 The UFC returns to Anaheim, California for UFC 241 featuring the main event a rematch between Stipe Miocic and Daniel Cormier for the heavyweight title.
This card features 12 total fights with 5 fights on the main UFC PPV card including a Welterweight bout between Anthony Pettis & Nate Diaz, Two Middleweight bouts with Yoel Romero, Paulo Costa, Derek Brunson & Ian Heinisch competing. The other main card event is a featherweight contest between Gabriel Benítez & Sodiq Yusuff
We are going to focus on the last three fights taking place Saturday night.
Best Sports Sites To Bet On UFC 241
UFC – Ultimate Fighting Championship
Main Event Breakdown
Daniel Cormier
Odds to win: -150
This is a very interesting rematch simply because the first fight did not go how most people expected it to go. Before their first fight, Stipe was a -250 favorite and nothing has changed besides the fact that DC starched Stipe in the first round of that fight at UFC 226.
I think that the biggest difference in this fight will be that Stipe should have a lot more respect for Cormier leading into this fight. Going into the first match, I think that most people assumed that DC would be a lot smaller than Stipe and that DC was not able to produce enough power to stop Miocic quickly. As it turns out, the additional weight seems to give DC a lot more power than most gave him credit for.
Now Cormier has earned more respect as a power puncher at heavyweight and for good reason. I expect him to still have that power and the elite wrestling game that he has always had.
Stipe Miocic
Odds to win: -130
I think that Stipe was very surprised in that fight. Now, Stipe should be approaching this fight as a standard heavyweight title shot and I think that he will be more careful to engage in a firefight early.
Official Pick
I really like the odds value I am getting on Stipe at +130 due to the overreaction from their first matchup.
Preview Of Two Other Fights
Anthony Pettis vs. Nate Diaz
Anthony Pettis
Odds to win: -135
This is one of the hardest fights to break down on the entire card due to the fact that Nate Diaz has not fought in about 3 years. Both of these fighters tend to get into brawls and neither of them are scared of getting hit in the slightest. I think that this will eventually benefit Pettis.
Nate Diaz
Odds to win: +110
When you look at their history as a whole, you can see that both of these guys are elite fighters, but they have some blemishes on their record. This is because these guys step in the ring looking to go at it from the get-go and this can cause issues from time-to-time. Particularly for Diaz, I think that he can be very careless in the octagon at times and this leads to too many bad losses.
Official Pick
When I look at this fight, I see relatively similar fighters, but I KNOW that Anthony Pettis is ready to go for this fight. On the other hand, I think it's possible that the ring rust for Diaz causes him to fight uncharacteristically slow. For that reason, I expect Pettis to leave the ring with a win from an eventual stoppage.
Yoel Romero vs. Paulo Costa
Yoel Romero
Odds to win: -160
This is a matchup between two fighters at different stages of their careers, but that doesn't necessarily mean what you think it might. Yoel Romero has lost two of his last three fights and is going to be going into his 12th UFC fight.
When you hear that someone is in their 12 fight with the UFC and has lost 2 of their last 3 fights, you may begin to think that this is someone on their way out, but that is not the case for Romero. Both of his fights were lost to Robert Whittaker by decision, a fighter that is likely seen as the best in the world in the middleweight division. Those are the only two losses that Romero has ever faced in the UFC
Paulo Costa
Odds to win: +130
On the other hand, Paulo Costa has really coasted in his first 4 UFC fights, winning each one of them by knockout by the second round. The biggest question surrounding this fight is the styles and the level of competition.
While Costa has mowed down his opponents, they have not been of the same quality as Yoel's opponents. Nevermind the fact that we know that Yoel just lost a split decision over the best fighter in the division.
Official Pick
I am scared of Costa's knockout tendencies, but Romero is a freak athlete and a great fighter that should be able to avoid those big punches. I expect Romero to eventually grind Costa down and win in a late stoppage or decision as a -160 favourite