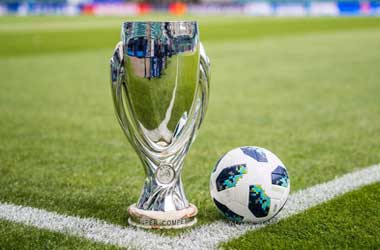 Every August, the UEFA Super Cup helps to kick off a new soccer season all across Europe.
It's just one game played between the winner of the previous season's Champions League and the winner of the previous season's Europa League.
A year ago, it was an all-Spanish meeting between Atletico Madrid and Real Madrid. However, the UEFA Super Cup in 2019 will be an all-English affair.
Since both the Champions League finals and Europa league finals were contested between two English clubs, it was always destined to be a match between two English teams.
Bet On Liverpool vs. Chelsea On Our Best To Sportsbooks
Specifically, Wednesday's Super Cup in Istanbul, Turkey will be played between Liverpool and Chelsea. Liverpool defeated Tottenham in the Champions League final last season while Chelsea knocked off London rival Arsenal to win Europa League.
Of course, neither team is in preseason form, as the Premier League became the first major European league to get started, doing so this past weekend.
Liverpool FC
Key Player: Mohammed Salah
It was business as usual for Liverpool in their Premier League opener on Friday, beating Norwich City 4-1. More importantly, Liverpool won comfortably without having to strain themselves too much in the second half. Jurgen Klopp's side showed no ill effects of a short offseason, having key players like Mohammed Salah and Sadio Mane playing big minutes while on international duty over the summer, or some disappointing results during the preseason. From the start of the game, Liverpool looked like a team that's ready to challenge for the Premier League title.
The scary thing is that Liverpool wasn't even full strength for their game against Norwich. Mane came off the bench after his busy summer, opening up for Divock Origi to start and score a goal. Klopp also didn't need to bring the likes of Xherdan Shaquiri, Naby Keita, or Alex Oxlade-Chamberlain off the bench. Considering that the UEFA Super Cup is a midweek game early in the season, Klopp may look to rotate his squad for Wednesday's showdown with Chelsea. However, with depth with the likes of Keita, Shaquiri, and Oxlade-Chamberlain, Liverpool can make lineup changes without much of a drop-off.
The only concern for Liverpool is that goalkeeper Alisson suffered an injury against Norwich and appears to be out for the foreseeable future. Backup Adrian, who signed with Liverpool just before the transfer window closed last week, will get the start. Despite losing his spot at West Ham United last season, Adrian has appeared in over 100 Premier League games, so Liverpool should feel comfortable with him defending their net.
Odds To Win: 1.80
Chelsea FC
Key Player: Tammy Abraham
Chelsea's Premier League opener was not what the club or new manager Frank Lampard had in mind. The Blues travelled to Old Trafford and were embarrassed in a 4-0 loss against Manchester United. Statistically, the Blues had more possession, more shots, and forced more saves from the opposing keeper than United, so the final score is a little misleading. However, the game exposed some serious flaws in Lampard's side.
First, there's the matter of scoring goals. Tammy Abraham was Chelsea's starting striker in the Premier League opener and figures to retain that role early in the season. The 21-year-old has spent the last three seasons on loan and scored 25 goals for Aston Villa last season. But he's yet to prove that he can score goals for Chelsea in the Premier League, and doing so against a stout Liverpool defence will be difficult.
Chelsea was also exposed defensively in their opener against Manchester United. To be fair, the Blues didn't have their best side. But they were vulnerable against the counterattack, which could be a serious issue against the speed and skill of Salah and Mane.
Odds To Win: 4.45
Our Predication
To simplify things, Chelsea is a team with several serious concerns and Liverpool is a team that only needs a little fine-tuning. The Reds will be eager to win another trophy while the Blues would probably benefit more from extra practice time rather than a trip to Istanbul. As always, anything can happen, but picking Liverpool to win the UEFA Super Cup feels like a safe bet.