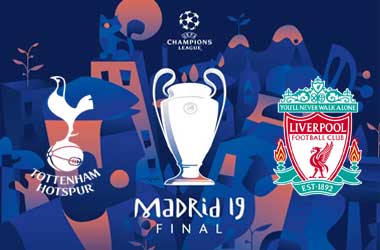 An all-England UEFA Champions League final will commence Saturday in Madrid. Liverpool, who finished a closer second in the Premier League season, will square off against Tottenham Hotspur, who finished fourth in the Premier League after struggling down the final stretch.
Liverpool is a slight favourite to win Saturday's final with a money line of -116. However, Spurs aren't far behind at +305 with Bet365.
Best Online Sportsbooks To Bet On The UEFA Champions League
How Did They Get Here?
Both teams should consider themselves fortunate to have reached the final. Liverpool who were finalists last year tied for second place during the group stage and only advanced on a tiebreaker with Napoli. The Reds started to play better during the knockout stage. However, they needed to erase a 3-0 deficit to Barcelona in the second leg of the semi-finals, making a furious comeback by winning the second leg 4-0 to advance to the Champions League final fro the second straight season.
Meanwhile, Tottenham has been left for dead several times during the Champions League season. They also advanced to the knockout stage after finishing tied for second in their group. By doing so, they became the first team to reach the knockout stage after having just one point after the first three games of the group stage. Spurs then survived an epic quarter-finals matchup with Manchester City and like Liverpool required a late comeback in the second leg of the semi-finals to get to this point.
ESPN FC
Full Strength
The long layoff between the end of the Premier League season and Saturday's game could end up benefiting Tottenham the most. Spurs struggled late in the year just to find 18 healthy bodies on match days. However, most of the team should be available for selection, most notably Harry Kane. It appears the Golden Boot winner at last summer's World Cup will be fit, and even if he's only able to come off the bench, he could have a major role to play.
Meanwhile, Liverpool is hoping to welcome back Roberto Firmino, who missed the end of the Premier League season with an injury. His potential return would solidify Liverpool's attacking band alongside Mohamed Salah and Sadio Mane, a trio that has been lethal for the Reds all season. If Firmino has to miss the match, Liverpool will go back to Divock Origi, who scored two critical goals in the semi-finals.
The Last Time They Met
These two teams last met for a delightful and entertaining Premier League game at the end of March. They appeared to have played to a 1-1 draw at Anfield until a Tottenham own goal in the 90th minute handed all three points to Liverpool. Despite that bit of luck for the home team, it was a game that could have gone either way, as Spurs got the better of play for large stretches of the 2nd half and came close to snatching a go-ahead goal. If fans are fortunate, Saturday's game will play out in a similar fashion with both teams unafraid to push forward and go on the attack.
In the end, there are many questions to answer about this game? Did Liverpool use up their good fortune against Spurs with that own goal in March? Will Firmino be able to play? Could Kane's return do more harm than good after Tottenham survived the quarters and semi-finals without him? With so much time off, which manager will devise a better tactical strategy? Ultimately, Liverpool is more deserving of a trophy after all they've accomplished this season. The soccer gods won't deny that.
Bet on Liverpool to win the Champions League final.