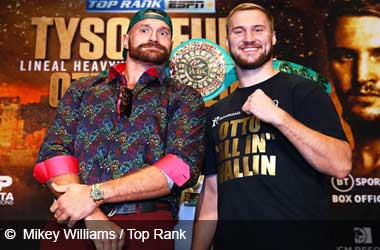 Tyson Fury is yet again stepping back into the ring, this time, he is taking on Otto Wallin.
Once again, we don't have the Wilder/Fury rematch we've all been wanting but making fights at the top of boxing is much easier said than done.
This fight surprised many, but nonetheless, it is a must-win for Fury, and a chance for Wallin to change his life forever.
Best Betting Sites To Bet On Lineal Heavyweight Championship Fight
Top Rank Boxing
Things to Watch For
Tyson Fury is easily a top-3 heavyweight, and some would even argue that he is the best in the world, and it is a solid statement in my opinion. Since his controversial draw with Deontay Wilder, he went on to score a huge TKO over Tom Schwarz.
I personally thought that the fight would have been enough to earn his shot back at Wilder, but sadly, it isn't. Now he takes on a dangerous, undefeated Wallin.
Wallin is coming off a no-contest with Nick Kisner, but beforehand, defeated Adrian Granat via decision. He sits undefeated at 20-0-1(NC) and is very quick for the heavyweight division. However, he is still quite green in many aspects.
The current odds for the fight are as follows:
Tyson Fury: -2700
Otto Wallin: +2000
To be quite fair here, these odds could have been much worse for Wallin, who is arguably taking on the best heavyweight boxer right now, and certainly hasn't faced anyone like him. The main issue I see here is experience, I certainly think wallin is a great talent and a superb athlete, but I'm not sure if that is enough to carry him through a guy like Fury.
Tyson on the other hand, has proved that he is tremendously quick, has fantastic head movement, and also packs serious power as well. He is an absolute nightmare matchup for anyone right now in the world of boxing, and many are aware of that.
I don't want to count out Wallin too quick, but he'll seriously need the best performance of his life if he is to pull off one of the craziest upsets in boxing.
Pick and Prediction
Personally, I feel that if Wallin wins, it is a bigger upset than Ruiz/Joshua. With that said, I really don't see many paths to victory for Wallin, unless he is able to apply pressure early and disrupt Fury's movement from the start.
I see this fight being determined probably by the first three rounds, and whoever controls the pace there is who I think will be the clear winner. I believe that the man to do so will be Fury, and that he'll be the one who lands more frequently and land the harder shots as well.
I think Wallin's athleticism may surprise some in the early going, but I think Fury will get a grip on the fight soon. Overall, Fury is at a stage in his career where I think he is bound to rematch Wilder, and I see him making yet another statement in this fight, winning via 5th/6th round TKO.