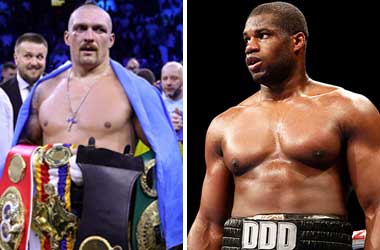 Boxing fans were looking forward to seeing one of the most anticipated heavyweight boxing fights in 2023 as there were talks of WBA, WBO, IBF champ Oleksandr Usyk fighting WBC heavyweight champ Tyson Fury in May 2023.
That fight did not materialize as both parties could not agree to the terms and conditions and hence both fighters moved on. Oleksandr Usyk will now put his belts on the line when he fights Daniel Dubois on Aug 26 in Wroclaw, Poland.
This isn't the fight that boxing fans around the world want to see but they will have to settle for this fight as of now. Usyk had no other option but to fight Daniel Dubois as he is the WBA mandatory challenger.
The undercard will feature a number of European boxers who are very good in their own right but are not big names in the boxing world. A total of 12 fights plus the Main Event featuring Usyk and Dubois will take place on this pay per view card which sells at $29.95.
Best Betting Sites To Bet On The WBO, IBF, WBA and Heavyweight Championship
Punters who are looking to bet on this fight and upcoming boxing bouts in the future, should register at any one of our featured betting websites. Register today, claim your welcome bonus and start betting right away!
The Journey To Fight Night
Usyk's boxing career changed dramatically on 25 Sep 2021 when he faced then WBA, WBO, IBF champ Anthony Joshua. Usyk went into the fight as an underdog and surprised everyone when he beat AJ by unanimous decision to become the new WBA, WBO, IBF champ.
AJ called for an immediate rematch and Usyk fought him again on 20 Aug 2022 in Saudi Arabia and ended up winning once again but this time by split decision. Usyk then tried to book a fight with Tyson 'The Gypsy King' Fury but since that did not work out.
Fury decided to go on and sign a bout with former UFC heavyweight champ Francis Ngannou and Usyk decided to fight Dubois after being out of action for 12 months.
Daniel Dubois has fought 20 times in his professional career and lost just once and that was 5 fights ago to Joe Joyce. He has put together 4 consecutive wins against Bogdan Dinu, Joe Cusumano, Trevor Bryan and Kevin Lerena. His last fight was against Lerena in Dec 2022 when he won by TKO.
Dubois is used to fighting twice each year but has been kept waiting the last few months for a big money fight. His waiting paid off and he now has a huge opportunity to see if he can beat Usyk and become the new WBA, WBO, IBF champ.
Things to Watch For
* Odds have been provided by William Hill and are accurate as of 21/08/2023
While Dubois has made it a habit to fight twice a year, the champ Usyk tends to fight just once each year. Ring rust does not seem to have much of an impact on Usyk as he showed just how good he was in the two fights against AJ.
Usyk is not known for his big KO power and will look to outbox and outwork Dubois who is the bigger puncher with 18 out of his 19 wins coming by way of TKO/KO. Dubois will look to catch Usyk off-guard with one of his big punches but that is not going to be easy as Usyk has excellent defensive skills.
While both fighters go in with 20 win fights each on their professional record, Usyk is the older fighter at 36 while Dubois is only 25. Usyk is the shorter fighter at 6'3 while Dubois stands at 6'5 but in terms of each both boxers are even at 78'.
Oleksandr Usyk (20-0)
Current Odds: 1/9 ()
Oleksandr Usyk goes into this fight as a huge betting favorite and rightly so. Usyk's star power and respect has grown significantly after his two wins over AJ and on paper this should be an easy night's work against Dubois.
Usyk will trust his coaches and the game plan that they have chalked out for him against Dubois. However, he will be under a bit of pressure as he knows his fans want him to win this fight in impressive fashion and then push for a super fight with Tyson Fury either later this year or in early 2024.
If Usyk does give into this pressure, he might take a few more risks than usual and open himself up to being caught by a surprise punch from Dubois. If Usyk gets through the first 5 rounds without any significant damage, he will be in a better position to dominate the fight and either win by decision or push for a KO.
Daniel Dubois (20-1)
Current Odds: 11/2 ()
Dubois knows that this is the biggest fight of his career and hence he will go in with some pressure, even though he is a massive underdog with the UK sportsbooks. He goes into this fight well prepared as he has had more than enough time to get ready for his big fight with Usyk.
Dubois showed in his last fight against Lerena that he has tremendous heart as he was knocked down three times in the first round but bounced back to stop Lerena in the 3rd. He will have to show that same kind of heart when he takes on Usyk as Dubois has a lot of weaknesses that Usyk will try to exploit.
Dubois likes to take risks and go for the finish and we don't expect him to change his style against Usyk. His coaches will know that his best chance to win is in the early rounds and will design a game plan to seek that early finish but also to be prepared for a 12 round war. What Dubois will have to be careful about is throwing haymakers in the early rounds trying to get a finish and gas out quickly.
Prediction
Based on the bookmakers, this should be an easy fight for the champ Oleksandr Usyk. He will be the more technical and quicker fighter both in terms of his hand speed and footwork. Usyk also has the experience of fighting in front of huge crowds as the Main Event and not letting the pressure of the occasion get the better of him.
Dubois is entering new waters as this is the biggest fight of his career and he is bound to feel the nerves. Whether he will let the pressure and nerves get the better of him, is anyone's guess!
If you like to make a safe bet, go ahead and put your money on Usyk to win by decision. If you like taking a risk, then go ahead and place your money on the challenger Dubois.
Our betting experts back the champ Usyk to dominate the fight and win by unanimous decision!