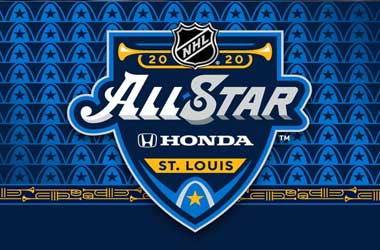 The 65th edition of the National Hockey League All Star game is set to take place on January 25, 2020.
The National Hockey League changed up their All Star Game format a few years ago, and this will once again be 3 on 3 tournament between the divisions. This will lead to exciting breakaway type plays in every matchup, and there will be plenty of goals scored.
The city of St. Louis will play host of the NHL All Star Game, and they are also the home city of the defending Stanley Cup Champions, St. Louis Blues.
There will be a number of skills competition that take place around the 3 on 3 tournament, but the game is the real show.
Best Online Sportsbooks To Bet On The 2020 NHL All-Star Game
FOX 2 St. Louis
* Odds have been provided by 888sport and are accurate as of 21/01/2020
NHL All-Star Team Analysis
Let's take a look at teach of the four teams before making a betting prediction.
Atlantic Division
The Atlantic Division is captained by David Pastrnak, who is likely the league MVP at this point of the season. Pastrnak has put up some huge numbers this season, and he should have big game in this one.
The Atlantic Division will have goaltenders Frederik Andersen and Andrei Vasivileskiy in net, and they will be faced with the tough task of slowing down some terrific goal scorers. This might be the deepest roster out of all the four teams that will take the ice on Saturday night.
Outright Odds to Win: 3/1
Metropolitan Division
The Metropolitan Division was supposed to have Alexander Ovechkin as their captain, but he has decided to sit this game out. Not having Ovechkin on the ice will definitely hurt their chances, as he is an elite goal scorer.
Goaltender Braden Holtby is one of the best in the game, and he will have to do his best to carry this team. The Metropolitan Division squad has been killed by injuries in recent weeks, and they look like a huge underdog in advance of this event.
Outright Odds to Win: 3/1
Central Division
The Central Division side will be captained by Nathan MacKinnon, but this squad is loaded with players from the St. Louis Blues. Alex Pietrangelo has developed into a dynamic goal scorer for the Blues, and he should have a solid game in this one.
Patrick Kane of the Chicago Blackhawks just registered his 1,000th career point this past weekend, and he loves putting on a show in this type of event. St. Louis Blues goaltender Jordan Binnington will be in the net for the Central Division, and they are going to get a huge boost from the home crowd. Don't expect the fans to sit down when the Central Division squad is on the ice.
Outright Odds to Win: 5/2
Pacific Division
Connor McDavid will captain the Pacific Division squad that has also been hit with a ton of injuries this year.
This squad would be tough to beat if they had their full complement of players, but that just isn't the case. Goaltenders Marc Andre-Fleury and Darcy Kuemper will both miss this game due to injury, and the Pacific Division is thin at that position. There is always a chance that this squad can get on a roll and score some goals, but they are going to be underdogs throughout this event.
Outright Odds to Win: 11/4
Our Prediction
The St. Louis Blues have been the talk of the NHL over the last 365 days, and the city will be buzzing for this game. St. Louis plays in the Central Division, and that should give that side a boost in this game. Patrick Kane and Nathan MacKinnon are going to put on a show when they are on the ice, and it's hard to see them losing in this format.
Bet on the Central Division to win the 2020 NHL All Star Game.