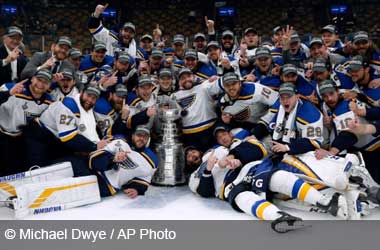 The 2019 Stanley Cup finals will go down as one of the most amazing playoffs in recent history as the St. Louis Blues and Boston Bruins competed fiercely, bringing out the best in each other.
The teams were tied at 3 each to push it into Game 7 which took place on Wednesday night.
The Blues outplayed the Bruins in Game 7 to win convincingly with a 4-1 scoreline.
They created history by winning their first Stanley Cup final in 52 years and gave their fans who have stood behind them for years a reason to finally celebrate.
KSDK News
Blues Win Will Give Other Teams Hope
The fact that the Blues won after 52 years is a huge inspiration for some of the other NHL teams. But what will motivate the rest of the NHL franchises is the fact that the Blues were ranked 31 out of 31 teams in the NHL at the start of 2019. They staged an amazing fightback in 2019 and capped it off with their first Stanley Cup championship.
There were so many reasons why the Blues came out on top but head coach Craig Berube will be the first to admit that it was a total team effort. However, we have to point out some of the great individual performances and start with goalie Jordan Binnington who had a fabulous playoff series.
The rookie goalie wasn't the first choice for the Blues and was the number four goalie in the squad towards the end of 2018. He was given a shot at being the number one goalie at the start of the year and he grabbed it with both hands and made 32 saves in the final and registered 16 playoff wins.
Ryan O'Reilly Wins Conn Smythe Trophy
Ryan O'Reilly stole the show for the Blues and deservingly walked away with the Conn Smythe Trophy. O'Reilly broke a number of records including scoring 24 playoff points for the Blues and scoring goals in 4 consecutive Stanley Cup games. The last player to do that was the great Wayne Gretzky who accomplished this feat in 1985.
In a statement, O'Reilly said
You dream of this for so long. As a kid, that feeling comes back to you of just what it means to win this thing. I still can't believe this. I can't believe I'm here right now and a Stanley Cup champion with this group of guys.