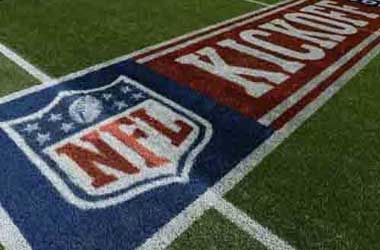 The National Football League is back more than six months after Super Bowl LV came to an end. It marks the return of the gridiron's most famous body of work with 32 different teams all hoping to accomplish the one primary goal in the NFL – to become Super Bowl champions and have that confetti coming down next winter.
This year we'll see the Tampa Bay Buccaneers open up the festivities at Raymond James Stadium against the Dallas Cowboys on Thursday, September 9. The remainder of the league will get their campaigns underway later on in the week but as far as these two are concerned, we're just a matter of hours away from the next chapter in their storied histories.
Bet On Dallas Cowboys @ Tampa Bay Buccaneers With The Following Sportsbooks
What happened in the 2020 Kickoff Game?
The champions of the final Super Bowl before the COVID-19 pandemic, also known as the Kansas City Chiefs, were at Arrowhead on September 10 to welcome the Houston Texans.
It was a lively affair with plenty of intrigue attached to it and while the Texans did manage to give Kansas City a bit of a scare, the end result was never really in doubt as Patrick Mahomes guided his side to a 34-20 success.
ESPN
2021 NFL Kickoff Game Team Analysis
* Odds have been provided by BetOnline and are accurate as of 06/09/2021
Tampa Bay Buccaneers
Current Odds: -350
As many folks will know, Tampa Bay won the Super Bowl title with an utterly dominant 31-9 win in the SB against the reigning champs at the time, the Kansas City Chiefs.
It was the first time a team had played in a Super Bowl at their home stadium and it showed with the kind of ruthless defensive display usually reserved for the big stage. They deserved the win, even though there was an element of surprise attached to it given their respective seedings.
We all wonder whether or not one decision can shift the momentum and change the direction of any given franchise, and as it turns out, it can. The defence delivered in a big way in the post-season last year but Tom Brady and his inability to age really did bring to the forefront how important it is to have an established, competent quarterback. Bruce Arians, of course, also knew and understood how to spearhead this team towards better things, and even though some are undervaluing them again we still feel like there's gas left in the tank before this experiment changes or ends.
Dallas Cowboys
Current Odds: +280
Dallas didn't fare quite as well last season with a 6-10 record that, unsurprisingly, raised even more questions about the future direction of this team.
They have star players littered throughout their squad but they just can't piece it all together – and, in truth, that's been happening since way back in the 1990s. They have the stature of world beaters but last season exemplified the struggles they're going through.
They may be set to feature on Hard Knocks for the third time ever but in reality, that doesn't mean a whole lot if the team can't perform to what they're feasibly capable of. Dak Prescott is the main man and that was proven upon signing his new deal but if he isn't motivated, and if he doesn't have strong options available to him, then the Cowboys are going to have a real problem in a division that shouldn't be too hard to either win or seriously compete in.
Prediction
In our view, this has "low scoring game" written all over it and we don't actually think it'll be the fault of either team. There's such a thing in this sport as taking your foot off of the gas and that's pretty easy to do when you're trying to play down to the level of your opponent. The Bucs are good but we can't forget that they were the fifth seed in the playoffs last year, with momentum and team spirit getting them through and playing a huge role in why they were able to make it to the big dance in the first place.
The Cowboys need to try and really get at the Bucs by showing pace, creativity and an ability to avoid being intimidated by a defence full of confidence. Alas, in most teams we'd say they'd have a fighting chance, but the fact this is taking place at Raymond James doesn't fill us with optimism for any Texas-based supporters who will be making their way down to Florida on Thursday.
The word "smother" is thrown around a lot in sports and that's precisely the kind of vibe we're expecting from this game. Tampa Bay should be able to get Dallas stuck in their ways through penalties, strong tackles and a pace that words to suit them, in what can only be described as a "get out of their way and let them make mistakes" kind of tactic.
It's not going to be pretty on the eye and we know that, but it doesn't need to be in order to lead to a successful result.
After a first half that sees the Bucs overcome an early storm from the underdogs, we're expecting the hosts to race out of the blocks and put a real statement out there to the rest of the league. Our official scoreline prediction is going to be 33-13 with the majority of those points coming after half-time with the Cowboys dropping their guard in a big way.
Whether or not they can do that for another 15 games is near enough impossible to say but they couldn't have asked for a more intriguing match-up with regards to the name value of their opponents, and they'll prove why in front of what is bound to be a lively crowd.