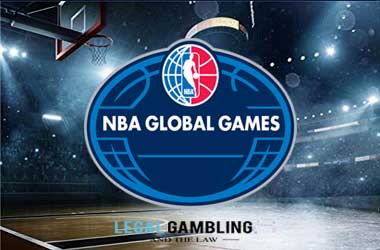 As the NBA tries to expand globally while not cause international conflict, they are still sending NBA teams across the oceans to promote the sport as a global game.
With that being said, we have the Brooklyn Nets and the Los Angeles Lakers taking part in the international movement during the preseason.
These two will square off with each other in Shanghai, China twice at 7:30am EST on Thursday and Saturday morning.
Bet On The Two Games Between Lakers vs. Nets In China At These Sportsbooks
CNBC International
Brooklyn Nets
The Nets are coming into this preseason with a brand new team with the departure of D'Angelo Russell and the arrival of Kyrie Irving, Kevin Durant and DeAndre Jordan. While Durant has already said that he will not play this season, it does appear that we will see Kyrie make his Nets debut on Thursday morning.
Recently, a report surfaced that Kyrie Irving was elbowed in the face in a scrimmage and suffered a facial fracture. The good news for Nets fans and China-based basketball fans is that Kyrie will be wearing a mask for this series but he will be in action for the first time this season.
The Nets started Dinwiddie, LeVert, Prince, Kurucs and Allen in their first exhibition game and I expect to see Irving replace Dinwiddie in the starting lineup. If I were projecting a full rotation of minutes, I think that we will often see Dinwiddie on the court over guys like Prince and Kurucs at the end of regular season games.
Los Angeles Lakers
The Lakers obviously made a huge splash in free agency this season by adding Anthony Davis for Lonzo Ball, Brandon Ingram, Josh Hart, and a bevy of first round picks. In their first game, this trade seemed to be paying off immediately. AD posted 22 and 10 in just 18 minutes of action in his first game.
The Lakers started LeBron James, Avery Bradley, Danny Green, Anthony Davis and JaVale McGee in their first preseason game and I would expect to see the same lineup in the second game. It is possible that we see them move out one of Green and put in Rondo to give LeBron a chance to play off-ball, but we will not hear about that until at least Wednesday unless Frank Vogel is just dying to tell us.
The Lakers had a comfortable lead throughout their game vs. the Warriors, but I do not think that their time was at all limited due to a blowout. The Lakers did not play AD or LeBron in the second half and I think that the most we see from them is one rotation into the 3 quarter and I would not rely on that.
Minutes
When trying to project the minutes in this game, there is a lack of real data. However, I do think that we should assume that the Nets are relatively aggressive in terms of their preseason minute allocations.
Usually, playing overseas in the preseason means that you are using a lot of travel days and will not play in as many preseason games as the coach would like. In this particular case, that seems to be true for the Nets and not true for the Lakers. This means that all things being equal, I expect the Nets starters to play more minutes than the Lakers starters over these two games.
The Lakers have 6 total preseason games on the schedule, but they are only against 2 different teams. Playing the Nets twice and the Warriors 4 times in the preseason is probably not optimal, but they will get plenty of games to get their feet under them.
Since this is not the case for the Nets, who only have 4 preseason games, I can't help but expect them to play a more concentrated rotation. With only 3 games left in the preseason, I think that Kenny Atkinson and the Nets should be looking to get acquainted with each other.
Our Pick
I want to bet the Nets +3-6 in both games in the series in an attempt to catch a game or two when the Nets starters are going to town on Alex Caruso and company. While the Lakers and AD looked good last game, they played a Golden State team that had to start Draymond Green and Omari Spellman at the 4 and 5 in order to even consider stopping AD. I don't expect it to be this easy, so give me the underdogs Nets here.